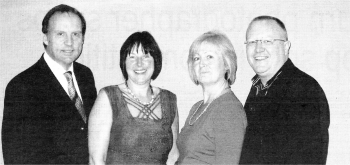 From left are John and Kathleen Duke and Mary and Brian Agnew.
TWO local couples are helping to change lives around the world, one cup of tea or coffee at a time, thanks to their business Source2Resource.
John and Kathleen Duke and Brian and Mary Agnew, who are all involved with the Kingdom Life Faith Centre in Lisburn, have taken their dedication to helping others one step further by setting up their own business, with sales helping to provide communities throughout Africa and around the world with much-needed equipment and independence.
Having worked amongst local communities in developing countries over the last ten years, the couples identified a need to create something in the market place that could be used to help support the work of humanitarian and community -based projects around the world.
Source2Resource sources and purchases quality products at a fair price, from developing nations, under its 'fair deal & fair trade' buying principles, enabling much-needed resources to be provided to developing communities around the world. A range of speciality coffees and teas sourced from Africa and other regions across the globe are available to purchase online at www.source2resource.net and at Caf'Inspirations, Graham Gardens, Lisburn, with exciting new products being added on a regular basis, such as hand-crafts, jewellery and gifts from Africa.
For every coffee or tea product that is purchased through Source2Resource, 10% is automatically donated to the Changing Lives Projects who then provide medical, educational and recreational programmes, build schools and orphanages, provide wells, farm development programmes, and micro-enterprises.
"We are eagerly anticipating the journey that lies ahead," said Mary Agnew, one of the directors of Source2Resource. "We are excited about the difference that can be made in the lives of people and communities across the world through the work of Source2Resource, Changing Lives Projects, and our relationships with partner organisations."
For more information on Source2Resource please email the Source2Resource team at info@source2resource.net or phone 028 3885 2555 or visit the website at www.source2resource.net.
Ulster Star
28/09/2007