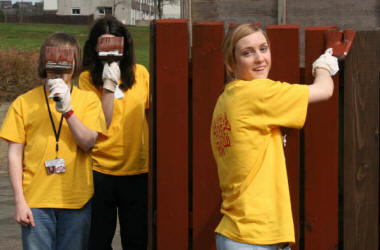 Following on from the tremendous success of last year's Street Reach, another one will be held next week on Thursday 12th to Saturday 14th April. Co-ordinated by Matt Craig - Youth Director at First Lisburn, this year's event is run by members of Lisburn Christian Youth Leaders' Forum and supported by the local churches. The three days of practical expressions of the Christian faith through love will include street parties, children's clubs, games, painting, gardening, rubbish clearing, etc and young people in Year 11 and above are invited to participate in this wonderful opportunity.
This year they are planning to work in Knockmore/Tonagh, Hillhall/Low Road, Lambeg, and several locations within Lisburn City Centre with the possibility of working in one or two other areas as well. After meeting at Lisburn Cathedral each morning at 10:00am they will head out to a designated areas shortly after 11:00am and will work until 1:00pm. After a packed lunch in that area, they will continue working until 4:30pm when they will return to the Centre City for an evening meal together. After the meal and a bit of fellowship and chat they will return home for a well-deserved rest.
The packed week of work, fellowship and fun will conclude on Saturday evening when inviting people from the areas that they are working in will join the team in Lisburn City Centre for a bar-b-que and concert in Bow Street at 6.00pm. Following the concert, those involved in Street Reach are invited back to the Cathedral for a celebration party.
Young people are asked to make this opportunity known to their friends and also to the wider congregation of their church. For more information and downloadable application forms visit: https://youth.firstlisburn.org/ and follow the link for Street Reach or contact Matt Craig on 07916250846 or email matt@firstlisburn.org.
04/04/2007