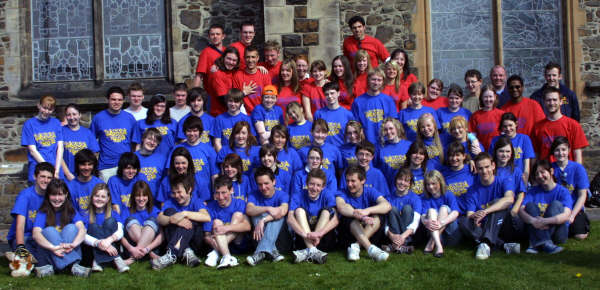 Some of the 100 young people who took part in Street Reach Lisburn - 2007.

About 100 young people took part in 'Street Reach Lisburn' last week on Thursday 12th to Saturday 14th April. Co-ordinated by Matt Craig (Youth Director at First Lisburn Presbyterian Church) this year's event was run by members of Lisburn Christian Youth Leaders' Forum and supported by 15 local churches. The three days of practical expression of the Christian faith through love included street parties, children's clubs, games, painting, gardening, rubbish clearing, etc.
Each morning they met at Lisburn Cathedral for prayer, worship and inspirational teaching before dividing into four teams for community work in Hillhall, Knockmore, Lambeg and Lisburn City Centre. On Thursday and Friday they met at Railway Street Presbyterian Church at about 4.30pm and after food, fellowship and fun, they returned home for a well-deserved rest.
On Saturday night (14th April) a barbeque and concert was held in Lisburn City Centre from 6.00pm to 8.00pm featuring 'Reed Star' a Christian band from Emmanuel Church, Lurgan and Portadown DJ, Jonto. People from the areas that the teams had worked in were invited to this closing event and following the concert the entire Street Reach team enjoyed a celebration party in Lisburn Cathedral.
The 15 churches represented were: Lisburn Cathedral, St Paul's, St Columba's and Moira Parish; Seymour Street Methodist; Lisburn Elim; Lisburn Congregational; Lisburn Church of the Nazarene; Emmanuel and Ballynahinch Baptist and First Lisburn, Railway Street, Harmony Hill, Dundrod and Malone Presbyterian Churches.
Many of the local residents remarked positively regarding the excellent work that was carried out by the young people and leaders on behalf of the local churches and one radio listener rang live on Radio Ulster to commend them for their hard work.
In Lisburn Elim Church on Sunday evening, Stephen Jones and Laura Kelly assisted by Debby Boyce and Rachel Hughes presented a humorous Street Reach report. Similar reports were and will be made at other churches including a powerpoint presentation of a video showing the great fun, fellowship and Christian outreach of Street Reach Lisburn 2007.
13/04//2007