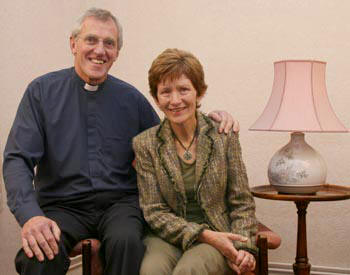 The Very Rev John Dinnen pictured with his wife Jane in the Hillsborough Rectory.
The Very Rev John Dinnen, former Dean of Down, will retire from active ministry at the end of December after 23 years as Rector of the Parish Church of St Malachy, Hillsborough.
John started life in Belfast's Cavehill Road beside the Belfast Waterworks and near Glenravel Street RUC Barracks where his father, Thompson Dinnen, a police Sergeant, was stationed. His older sister Elizabeth and he began school on the Antrim road. John's first experience of church was Christ Church, Durham Street. The two-tier pulpit of that church, a remarkable piece of Victorian furniture, is now in Hillsborough Fort. As a young boy, age 7, John took 'infantile paralysis' (now called polio) and this was a testing time for the family, and his recovery, without serious consequence, was remarkable for those times.
After his recovery the family moved to Derry where they remained until Elizabeth entered Stranmillis College and John left Foyle College for Trinity College Dublin. It was during those years, through the faithful leadership of a Boys' Brigade Company, that John's faith became increasingly meaningful and he enquired and in June 1966 was accepted, to train for ordination in Church of Ireland at St Anne's Cathedral.
During his years at Trinity there was endless scope for sport, study and making friends, one of whom was a Methodist student from West Cork reading Chemistry. In 1969 John married Jane Kingston in Bandon Methodist Church, West Cork and the young couple's first home was in Dublin. After curacies in Belfast, Dublin and Glengormely, John became Dean of Residences at Queen's University in 1974 where he looked after students from home and abroad, forty of whom lived at the Church of Ireland Centre in Elmwood Avenue.
By now there were three young sons in the Dinnen household - Carl, Paul and Andrew. In February 1984 John was appointed Rector of Hillsborough. Always involved in wider church affairs, he was a member of the General Synod for Down, member of the Standing Committee, Warden of Readers and Director of Ordinands, member of the Diocesan council, the Episcopal Electoral college and the Committee of Patronage. In 1997 he was appointed Dean at the Cathedral in Downpatrick, where he served until October 2006. In his post graduate studies after Trinity, he was awarded a BD at Dublin in 1972 and an M.Th at Queen's in 1991.
During his ministry at Hillsborough, Jane taught in the Science Department at Dromore High School and Banbridge Academy. Their sons meantime, followed their own careers - Carl is a news presenter and correspondent for Channel 4 News; Paul is teaching English, after Drama School and a period on the stage; and Andrew is serving with the RAF Regiment and is currently based at their headquarters in Suffolk.
The next generation of the Dinnen family has arrived and John and Jane are now the proud grandparents of three young grandchildren; Harper, age 2 (son of Carl and Pauline); Jacob age 1' (son of Andrew and Claire); and Finbar, age 1' (son of Paul and Anna).
John says of his forthcoming retirement, 'Hillsborough is a place of very special people, among whom we have been privileged to live and work. It has, under God, a great future, full of immense challenges. People here will always be in our prayers as they work and witness for Jesus in their community. I pray that the leadership of the church family will have real support and encouragement for growing the church here in the future. Once we are over the house moving, we look forward to serving the Lord in new ways and new places.'
A farewell reception for John and Jane Dinnen will be held following morning worship on Sunday 23rd December. John will preach his final sermon as rector of Hillsborough at a Watchnight Service on (New Years Eve) Monday 31st December at 11.30pm - a most appropriate time to mark a long and faithful ministry at this historic church.
11/11/2007