Special events mark 100 years of worship in
St Colman's Parish Church, Dunmurry
| | |
| --- | --- |
| | |
| L to R: Chris Cusdin (Rector's Churchwarden), John Williams (Parish Reader), Lord Eames, Rt Rev Alan Abernethy (Bishop of Connor), Councillor James Tinsley (Mayor), Mrs Margaret Tinsley (Mayoress), Rev Hamilton Leckey, Rev Canon Terry Rodgers and Roberta Campbell (People's Churchwarden). | Dr Bob Common and his wife Cathie are pictured last Sunday morning after the dedication of a wall plaque, which they presented to Dunmurry Parish Church, listing the clergy who have served in the parish over the past 100 years. Included in the photo are Lord Eames (left) and the Bishop of Connor. |
A Centenary Service held in St Colman's Parish Church, Dunmurry on Sunday morning 27th April, concluded a weekend of special events to mark 100 years of worship in this beautiful church since its consecration on St Mark's Day, 25th April 1908. John Williams (Parish Reader) and the Rt Rev Alan Abernethy, Bishop of Connor led the service assisted by the Very Rev Hamilton Leckey (former Dean of Down). The preacher was Lord Eames and among the guests were Lisburn Mayor, Councillor James Tinsley and his wife the Mayoress, Mrs Margaret Tinsley and past Rector, the Rev Canon Terry Rodgers.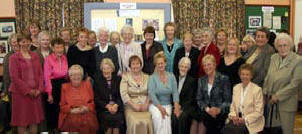 In his address Lord Eames looked forward to a new chapter at Dunmurry Parish with the institution of the Rev Denise Acheson on Thursday evening 1st May. Speaking of a God who loves, cares and sustains, he explained that three signposts that should be evident in a parish are: It should be 'a place of reassurance'; 'a place where we find God'; and thirdly, 'a place where hearts and minds are touched by God'. He went on to say that God would wipe away the tears and give a new vision of a parish in which we find our hearts touched by the still small voice of God who loves us.
During the service the Bishop dedicated a lighting system presented by Billy and Diane Mawhinney in memory of their parents - Sam and Margaret Mawhinney and John and Ethel McCormack; a sound system presented by Sheena Herron in memory of her husband Tom Herron; and a wall plaque presented by Dr Bob Common listing the clergy who have served in the parish over the past 100 years.
Alan Yarr presided at the organ and together with the church choir led the praise that included 'Praise to the Lord', 'Lord for the years' and 'We have a gospel to proclaim'. The anthems were 'O come ye servants of the Lord' and 'The Holy Spirit came at Pentecost'.
The weekend of celebrations preceding the institution of a new rector also included a centenary dinner in the Beechlawn Hotel on Friday 25th April. Following the service on Sunday morning, light refreshments were served in the parochial hall providing the opportunity for parishioners and guests to view a three-day exhibition, which featured photographs, letters and other memorabilia chronicling life in the parish over the last century.
| | |
| --- | --- |
| | |
| Past officers of the Church Lads Brigade. L to R: (seated) Rev Canon Terry Rodgers, Very Rev Hamilton Leckey, John Williams, Billy McCandless and Tom Green. (back row) Norman McConkey, Heather Montgomery, Kenneth Montgomery, John Stewart, Edna Stewart, Joy McCandless and Sally Orr. | At the Centenary Service in St Colman's are L to R: The Rt Rev Alan Abernethy (Bishop of Connor), John Williams (Parish Reader) and Lord Eames, |
28/04/2008