Railway Street Boys' Brigade Display

Pictured at the presentation of 'Badges' are L to R: Paul Whittle with his father Gordon, Lloyd Gillespie with his father John, Dean Ringland, Ryan Weir with his grandfather Tom Dunseath and Conor Neill with his mother Kathey.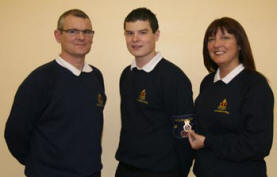 1st Lisburn Boys' Brigade Company Annual Inspection and Display was held in Railway Street Presbyterian Church on Saturday 19th April. The minister, the Rev Brian Gibson welcomed the boys, their parents and visitors and gave a special welcome to the Inspecting Officer, Don Mitchell, who also presented the awards. He went on to congratulate former captain George Toombs, who recently became the new President of the Company in succession to the late Noel Magee.
The programme, with a cineplex theme, included: ' Spiderman' and ' Rainbow popcorn' - Cabin Boys ' Wild, wild west' and ' Race to the kiosk' - Anchor Boys; ' Bridge over the river Kwai' and ' David and Goliath' - Junior Section; ' Out of Egypt' and ' The Oscars' - Company Section.
Prior to the benediction, Geoff Baird (Captain) introduced the newest recruit to the Anchor Boys Section - puppet Basil Brigadier. Geoff explained that during the year the boys were allowed in turn to take Basil home to be their best friend for a week. He concluded the evening by saying that Jesus can be your best friend - not just for a week but all the time.
Refreshments were served, bringing to an end a great night of fun and fellowship.
21/04/2008