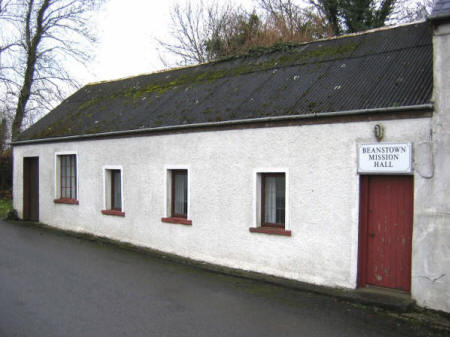 Beanstown Mission Hall
The Beanstown Mission Hall, on the Beanstown Road, Pond Park will regrettably be demolished due to major road reconstruction in the area.
The final service on Sunday 27th July at 3.30pm will be an opportunity for many to give thanks for the faithful Christian witness carried out in the hall, which has served the community for 87 years.
The preacher will be the Rev Ronnie McCracken and the soloist will be Derek Greenaway.
Everyone will be made most welcome.

Brief history of Beanstown Mission Hall
In the early 1900's, Mr William Orr, a member of Magheragall Presbyterian Church began holding afternoon meetings in the living room of his home at Ivy Hill Cottage on the Ivy Road, Derriaghy. The meetings were well attended for many years, but in 1920 Mr. Orr felt the need for a more central meetinghouse. He approached a Miss Boomer, and asked for permission to hold Gospel Meetings in a portion of her cottage on the Beanstown Road. Miss Boomer approved and a Sunday afternoon Gospel Meeting has been held there ever since.
They soon found that there was insufficient room for the numbers attending the meetings and another section of the cottage was obtained.
In 1921/2 a Gospel Mission was held, led by Mr. Tommy Haire. Mr Haire was a plumber by profession and was well known in those days as the 'Preaching Plumber.' Numbers continued to grow and the full use of the hall as it exists today was granted.
In October 1923, the Faith Mission Pilgrims were invited to hold a Gospel Mission in the hall. Led by Miss Joan Harper from Scotland, the six-week Mission was so popular that separate meetings were held for children in order to accommodate the numbers of adults attending. During the Mission the fellowship at Beanstown witnessed a 'Mini Revival' and as a result of this, the Prayer Union was formed. They met on Wednesday evenings at 8.00pm and these meetings have continued ever since.

15/07/2008