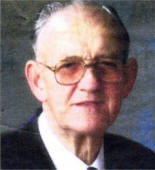 WELL known local man Mr John Saunders Thompson, has died at the age of 87.
Mr Thompson, who provided a weekly Gospel Message to many local weekly newspapers for many years, passed away peacefully at his home in Lisburn on July 4. A committed Christian from the age of 16, John resigned from his role as a sergeant in the RUC in 1950 to devote his life to preaching the Gospel.
Between 1951 and 2000 he conducted hundreds of Gospel meetings, and his personal endeavour to spread God's Word was such that he also printed and distributed millions of Gospel tracts during his lifetime.
Mr Thompson, whose funeral took place at Plantation Gospel Hall in Lisburn on July 7, is survived by his wife Ena, sons Samuel and Andrew and daughter Anne.
John Thompson

05/09/2008