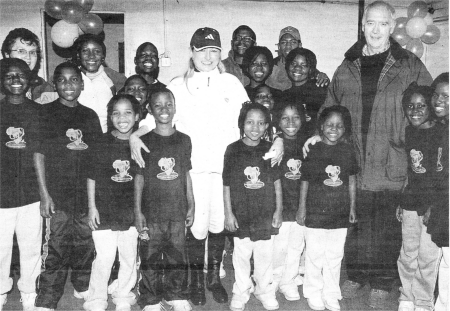 Ugandan orphans who visited Saintfield last year with Joan Cunningham who organised a charity pleasure ride, lunch and auction which raised '5,000 for the children's health and educational needs. Also included are Ian and Phyllis Hasson from Rock Ministries (NJ.) Trust.
UGANDAN orphans are to benefit from the proceeds of Saintfield Show's star studded Ball being held at the Ramada Hotel, Shaw's Bridge, on Friday September 26. Some 450 people are expected to attend, raising funds for Saintfield Show following a horrendous wet day and also supporting the project for the orphans funded by Rock Ministries (N.J.) Trust.
In November last year 16 Ugandan orphans visited the province as the Mwamba Choir and Joan Cunningham from Saintfield hosted a charity pleasure ride, lunch and auction for the children, raising '5,000 for their health and educational needs. The children absolutely stole the hearts of all who met them and according to Phyllis Hasson of Rock Ministries (N.I.) Trust, the money raised from this year's event will be used to create a bore hole to provide fresh drinking water.
Many faces from showjumping, hunting, eventing, racing and showing will be out in force and with the Point-to-Point season commencing the following weekend at Newry, Margie McLoone from Irish Field who will be attending as a special guest, is going to judge the best turned out racehorse trainer or jockey - so boys get well scrubbed up.
And not forgetting the ladies.. there will be a special prize for the best turned out filly trainer/jockey and it will be fun to see who gets passed the winning post without a steward's enquiry!
Guest of honour Ann Smurfitt from the famous K-Club who hosted the Rider Cup and is no stranger to Saintfield as she judged the Celebrity Challenge at Saintfield Show this year and also attended the Show Ball last year. She will be accompanied by RTE's Brendan McArdle who is also Manager of Irish Field.
Karen Patterson from BBC will also be attending along with Richard Lyttle the former Navan Racecourse Manager.
Following the meal there will be an auction with items already received from Down Royal Race Course - 4 VIP packages for the Down Racing Festival in November; Roger Cunningham's One Stop Mortgage in Bow Street Mall/Longstone Street, Lisburn and Cornmarket, Belfast; Style Antiques, Saintfield, Norman McBriar, Saintfield amongst others.
Well known showband Patrice, Gloria and Band will provide the music into the wee small hours.
A few tickets at '40 each are still available for the black tie event from Joan Cunningham on 07775860744; Suzy Kinley on 07740095787 and Viola McBriar on 02897 511274.

19/09/2008