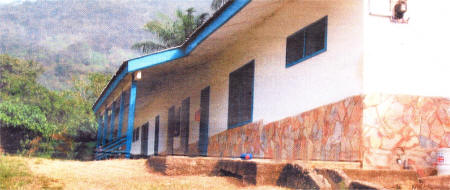 The Bosumtwe Clinic.
SEYMOUR Street Methodist Church is hosting a Barn Dance in the Church hall tonight (Friday) at 8.00pm. It's the first in a series of events being held to raise funds for a visit to Ghana by Lisburn Methodists this summer.
In 2006 a young Lisburn woman studying in London spent her summer in Ghana working in a hospital and a medical clinic. She was so appalled by the lack of amenities, drugs and facilities that she decided urgent help was required.
Over the past year a number of people have been fact-finding
and making contacts with the staff of Lake Bosumtwe Methodist Clinic situated in a remote area of the Asante region of Ghana. The clinic is community based serving around 24 villages with a population of about 30,000 people and is staffed by a Brazilian doctor, local Ghanaian nurses, a technician and administrator.
The clinic was built in the late 1960s and is now in need of an extension to meet the needs of an ever-growing population. There are a large number of preschool children in the area most of whom were born in the clinic.
The care provided by the clinic includes outpatient consultations both in the clinic and in outlying villages, general admissions, family planning, maternity, preventative medicine and much more. Malaria and cholera are very prevalent in the area.
In July 2008 a team of 15 from Lisburn Methodist Church will be flying out to Ghana to construct a new wing at the clinic. This will make it possible to carry out minor operations and to provide more beds for inpatients.
The Barn Dance is open to all ages and everyone will be made very welcome. Admission is '5 with a a light supper avail- able for a donation. All proceeds will go to providing the much needed facilities at the clinic in Ghana.
Ulster Star
01/02/2008