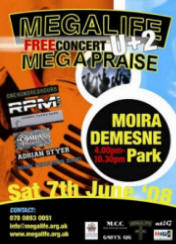 MOIRA Demense is set to come alive with a massive free outdoor concert at the beginning of June.
Megalife U+2 Megapraise will feature six bands including One Hundred Hours (UK/USA), RPM (UK, Mm Bradford), Johnny Parks Band (NI), Compass (Norway), Adrian Styer (South Africa) and Mark Ferguson Band (NI), and the speaker will be Tre Shepherd (USA) in the Christian alternative to the huge summer gigs which are now so popular.
The man behind the venture, which is expected to attract thousands of young people from across Northern Ireland, is Wilson Archer, a former police officer, who now spends his time spreading the gospel from a 36-year-old bright orange camper van .
The gates of Moira Demense will be open on Saturday, June 7, from 4.30pm - 10.30pm for what promises to be an exciting day.
"The music will be lively and modern - to be enjoyed by all ages and members of every community, no one will be excluded" said Wilson.
Mr Archer said he hoped young people would take .a positive message from the event. There will be a clear spiritual focus and Tre Shepherd, the lead singer in the band OneHundredHours, will be speaking. He continued: "The concert is free and because of that everyone has the liberty to come along and make up their own mind -they can leave with no cost if it's not for them. There will be no alcohol and it will be a safe and positive environment to relax and enjoy great music."
For more information check out www.megalife.org.uk
23/05/2008