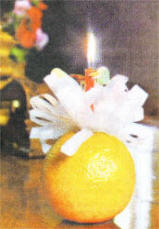 KILWARLIN Moravian Church will be holding their annual Christingle Service this Sunday December 21 at 4pm.
The children of the Church, located at, Kilwarlin Road, Hillsborough, will perform the service.
The custom of Christingle began at a children's festival in a Moravian congregation in Germany on December 20 1747. The Minister spoke of the happiness that had come to men from the birth of Jesus and gave each child a lighted candle with the prayer "Lord Jesus kindle a flame in these dear children's hearts, that theirs like thine become".
During the 18th and 19th centuries of Missionary outreach, the Moravians took the custom of Christingle to Labrador and Pennsylvania, to the Tibet and Surinam to the Caribbean and South Africa and each part of the world adapted it for their own use. Where it is observed at the climax of the service of readings and carols, each child receives a lighted candle in the darkened church and in this magical moment the visual symbol tells the truth that in the darkness of the world there has shined a great light.
This unique Christmas celebration has now been widely adopted by churches of many denominations, thus testifying to the pow( and potency of its symbolism - the lighted candle in the orange representing Christ the light of the world, the fruits and sweets. God's Bounty to us while the red paper frill reminds us of the passion of Christ.
Ulster Star
19/12/2008