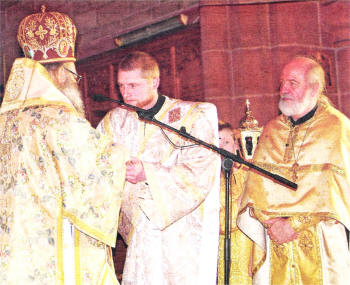 Deacon Paul Totten during the service with His Emminence Metropolitan John and Father Irenaus
THE first Deacon to be ordained by the Antiochan Orthodox Church in Ireland is a Maghaberry man. Paul Totten's ordination took place at St. Ignatius Antiochan Church (formerly St. James Church of Ireland) on the corner of Belfast's Antrim and Cliftonville Roads last Sunday (November 22).
His wife Louise and daughter Sophie were among the congregation.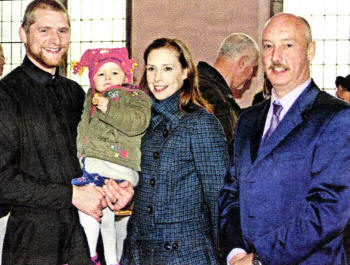 Deacon Paul Totten of Maghaberry with his daughter Sophie, wife Louise and father-in-law Mr Trevor Rushe of Maghaberry.
Ceremony
The ceremony was conducted by the newly installed Metropolitan of the church His Emminence Metropolitan John who travelled to Northern Ireland from Paris.
He was introduced to many members of clergy from other churches during his visit and described local people as 'some of the most warm hearted and friendly he had met'.
St. Ignatius Orthodox Church is part of the Antiochan Orthodox Diocese of Western and Central Europe.
Ulster Star
27/11/2008