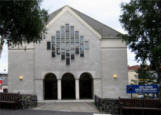 Palm Sunday
The Palm Sunday and Easter Story will be told in music, hymns and readings in First Lisburn Presbyterian Church on Sunday 16th March at 11.00am. The minister, the Rev John Brackenridge will be assisted by the organist, choir, orchestra, band, readers and voices in the what will prove to be an excellent presentation setting the scene for Holy Week and Easter.

Easter Reflections
There will be a short service held in the Upper Room of the church on Monday 17th, Tuesday 18th and Wed 19th March at 7.00pm to 7.30pm allowing time for Easter reflections and on Friday 21st at 7.00pm there will be a Service of Contemplation in the Church.

Passover Meal
A Passover Meal will be held in Thursday 20th March at 7.00pm. At the end of the meal, the communion of the Last Supper will be shared at each table - parents are invited to also share this part of the meal with their children as they think appropriate. The meal comes with a Passover Liturgy, yet it is very free and informal and has the feel of people gathered in a home. It is meant to be enjoyed and is designed to help us understand 'communion' and to enter into the events of this night in our Holy Week journey.

Easter Sunday
There will be an Easter Sunrise Service in Lady Dixon Park on Easter Sunday morning (23rd March) at 7.30pm followed by a light breakfast in the church at 8.30pm and morning worship in the church at 11.00pm.

04/03/2008