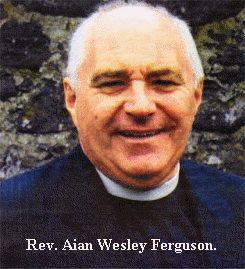 A LISBURN man who is about to become President of the Methodist Church in Ireland first felt the call to the Christian Ministry during one of the camps for young people run by local department store proprietor Harold Patterson and his wife Meta in the early 1970's. Rev. Aian Wesley Ferguson, the son of Thomas and Lily Ferguson of Warren Park, was in his late teens when he attended the camp.
Born in 1953, he attended Lisburn Central Primary and Wallace High Schools until 1970 when he began a career with the Northern Bank at Donegall Square West in Belfast City Centre.
However, just four years later he left the world of finance to enter Edgehill College. His decision to train for the Ministry was supported by his home church, Seymour Street, and its then Minister Rev. Winston Good.
Before his entry to Edgehill he also studied for his Local Preachers Exam - the starting point for anyone wanting to become a member of the Methodist clergy.
Mr. Ferguson spent three years at College. He left in 1977 when he also married his wife Joan (nee Maze) a fellow member of Seymour Street who grew up. in the Magheralave area.
His first charge was Moville after which he moved to Sligo, Finaghy and Enniskillen. He also served as District Superintendent in both the Lakeland and North East Districts. He is currently Minister of Carrickfergus Methodist Church and was designated for position of Church President at its 2007 Conference in Cork.
He will officially take up the position at this year's Conference due to take place in Londonderry next month.
Mr. and Mrs. Ferguson have four children -Gillian, Nicola, Stephen and Peter.
A Methodist spokesperson said although perceived as a 'conservative evangelical', Mr. Ferguson 'worked well ecumenically' and would represent Methodism effectively alongside the other church leaders.
"His ministry has always been characterised by his willingness to reach out across the community.
"He rejoices in the progress that has been made politically," the spokesperson added. "He cares deeply about evangelism and is highly interested in how we connect the gospel to people in this modern age.
"He will not sidestep controversial issues but will address them from a biblical standpoint."
The spokesperson also said Mr. Ferguson had 'always been in demand' as Minister in some of Methodism's largest churches.
"He has excelled as a Pastor and his Ministry has had a remarkable influence on many," he concluded.
Ulster Star
30/05/2008