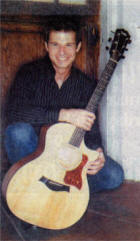 NEXT Friday Febuary 15, Lambeg Baptist Church presents Mike Haight from First Orlando Baptist Church, in concert at the Island Centre Lisburn.
Coincide
This will coincide with the release of his first album `Further'.
Mike was a member of the group Twenty-Four Seven who have performed in Northern Ireland regularly over the past few years.
His new album is a collection of 10 original songs and was recorded in Nashville, Tennessee.
Purchased
Tickets for the concert are available from the Faith Mission Bookshop, or can be purchased on the night.
08/02/2008