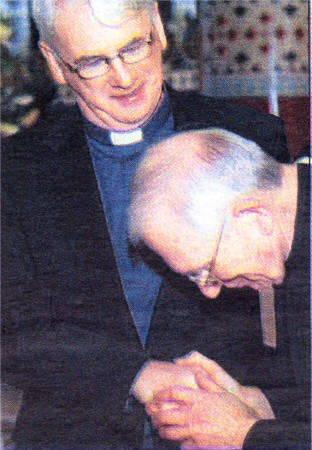 Monsignor Noel Treanor pictured at St Peter's in West Belfast with Bishop Patrick Walsh out going Bishop of Down and Connor. US0908-800SP
THE Pope has appointed the Rt. Rev Monsignor Noel Treanor to succeed Bishop Patrick Walsh as the Bishop of Down and Connor. The ordination will take place on the Feast of Saints Peter and Paul, Sunday June 29. Bishop Walsh will remain in position until then.
Speaking of his appointment, Bishop-elect Treanor said: "I come with great joy in my heart. I look forward to working in the service of Jesus Christ and his Gospel together with the priests, with the members of religious orders and congregations, and with the laity of this historic diocese."
The new Bishop has most recently been a priest in the Diocese of Clogher which covers all of County Monaghan, south Donegal and large areas of Fermanagh and Tyrone.
Since 1989 he has been involved with the Commission of the Bishops' Conferences of the European Community (COMECE) secretariat in Brussels.
At COMECE he was actively involved in monitoring European Union draft policy and engaging in debate between Christian faith and political institutions.
His wealth of experience also includes publishing and lecturing widely on European construction issues, the church and Europe, and church-state matters.
Bishop-elect Treanor has made a plea for support in his new role: "I ask for the prayers of all the Catholic faithful - young and old - throughout the parishes of the diocese.
"I shall rely on the understanding and patience of the priests so that together we may serve the people of God by proclaiming the Gospel, celebrating the sacraments, and engaging in the work of charity in the face of human suffering and need."
29/02/2008