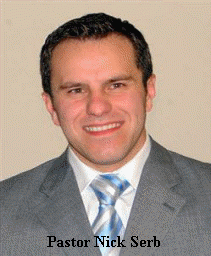 Pastor Nick Serb, minister of Mount Zion Free Methodist Church will be the guest speaker at Lisburn CWU on Saturday evening 23rd February at 7.30pm.

The Romanian born pastor will give his testimony explaining how as a young boy he wished to become a missionary. Nick gave his life to Jesus at just 17 years of age and also about that time his father asked him to preach. He attended Belfast Bible College and returned to Romania in 2001 where he joined his father in his church-planting ministry. In 2006 he obtained a Degree in Psychology, specialising in Social Psychology (family and domestic violence) from the University of Lucian Blaga, Sibiu, Romania. This qualification allowed him to complete his vision to be a counsellor and missionary pastor. For four years, Nick was head of the language department in the Military School and in 2006 he was offered promotion to the rank of Lieutenant. He turned this position down as he felt the calling to go back to Lisburn and on Friday 9th February 2007 he was inducted as the new minister of Mount Zion Free Methodist Church.

Nick is a gifted speaker and his testimony is an interesting one. The leaders of the CWU extend a warm welcome to come and hear his story - you will be made most welcome.

16/01/2008