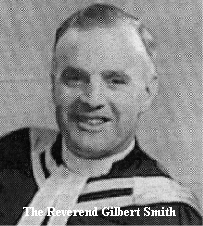 A FORMER minister at Magheragall Presbyterian Church has passed away in British Colombia, Canada at the age of 94.
The Reverend Gilbert Smith played cricket for Lisburn and hockey for Lisnagarvey before moving to Canada in 1953.
Born on October 14, 1913 in Londonderry, he was educated at Foyle and Magee Colleges. He loved language and completed an MA in English at Trinity College, Dublin followed by Theology at New College, Edinburgh.
As a young man he served in Belfast as a chaplain during the bombings of World War II, later ministering at Trinity, Bangor before going to Magheragall in January 1943 where he stayed for 10 years, enjoying an amazing rapport with young people. Gilbert was a keen sportsman, representing his schools in soccer, cricket and hockey, and his country in hockey.
Later his sporting prowess helped Lisburn Cricket and Lisnagarvey Hockey Clubs reach great heights.
In 1953 he was urged to go to Canada and his leadership helped found a new congregation, St. Giles Presbyterian Church Peterborough, Ontario.
Here he met Barbara and they married in 1954.
After serving congregations in Brantford and Mt. Pleasant, the family went to New Zealand where he ministered at Clevedon from 1965-1967 when he returned to Canada, to Trinity Presbyterian, Victoria.
He retired from Trinity in 1981 but continued in service, especially loved by his friends at the Chinese Presbyterian Church.
At Beacon Hill Park he enjoyed playing cricket and later umpiring. There were monthly Cricket club luncheons and Golfing Mondays at Royal Colwood GC, where he managed two holes in-one.
Gilbert was also an ardent flower grower, a member of the Chrysanthemum and Dahlia Clubs.
He passed away on January 16th leaving his wife Barbara, son David and three grandchildren - Stephen, Brian and Sarah. Gilbert was predeceased by his parents, two sisters and brother, all of whom had lived in Northern Ireland.
Ulster Star
08/02/2008