Director of Logos Hope to be guest speaker at First Lisburn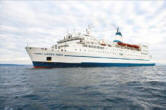 Mike and Ann Hey of Operation Mobilisation will be the guest speakers at morning worship at First Lisburn Presbyterian Church this Sunday (8th March) at 11.00 am. Mike is the Director of the new ship Logos Hope, which will be coming to Belfast from 29th April to 12th May 2009. Everyone is welcome to come and experience Mike and Ann's vision of the new ship as they pioneering a new opportunity to "reach unreached people" more effectively with the Gospel of Jesus Christ.
Mike Hey
Mike Hey joined Operation Mobilisation in 1976 and together with his wife Ann served for an extended time in India, South-East Asia and Australia. Since 1993, Mike has been with OM Ships International, including seven years' total term of service as Director of Doulos. In his present role, Mike oversees the Logos Hope Executive Team and is responsible for the ministry focus and spiritual health of the onboard community. Until recently Mike also served for three years as Director of Personnel Ministries for OM Ships International. He has been a pioneer for the ministry in this role, bringing pastoral experience from his home church in Adelaide. Mike and Ann have three children - Rebecca, studying in Canada; Michelle, studying in Australia; and Esther, an independent high school student on board Logos Hope. Mike enjoys walking in the mountains and taking pleasure in God's creation.
Logos Hope
Mike Hey:
Director, Logos Hope

Logos Hope
Located at Belfast's Pollock Dock, Logos Hope will be open every day from Wednesday 29th April to Tuesday 12th May 2009. Opening hours are Tuesday - Saturday 10am to 10pm and Sundays & Mondays 2pm to 10pm. Admission is free for all visitors.
Logos Hope, the world's largest floating book fair, is making a first ever call at Belfast. Having undergone a complete multi-million pound renovation, the 12,000-ton former passenger vessel is now fulfilling a new role of bringing knowledge, help and hope to the people of the world. On board Logos Hope is a selection of 6,000 educational books that covers a range of subjects including science, sports, hobbies and religion. With children's titles, academic texts, dictionaries, atlases, Bibles and more, there is something for all the family to choose from. The vessel is overseen by the international Christian charity Operation Mobilisation (OM), meaning that the books on board are offered at affordable prices. Logos Hope is staffed by an all-volunteer crew of 350 people - even the captain and officers receive no salary. All those serve on board as a practical expression of their Christian faith. The crew are also very international, representing over 40 different countries. Besides exploring the book fair, visitors to the ship will also have an opportunity to meet crewmembers, experience their diverse cultures and learn about the vision of bringing knowledge, help and hope. While other vessels operated by GBA Ships, Doulos and Logos II, have both called at Belfast in recent years, this visit marks the first time Logos Hope has arrived in Northern Ireland. With a much larger selection of books on offer and an all-new Visitor Experience deck, stepping on board will be truly unforgettable!
01/03/2009