A taste of Guinness at Railway Street Presbyterian Church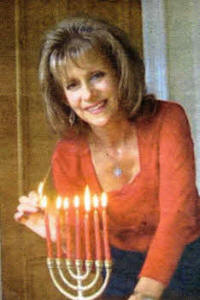 RAILWAY Street Presbyterian Church in Lisburn is hosting the launch of Michele Guinness's latest book Autumn Leave — A Season in France' on Thursday, October 22 at 8.00 pm.
Michele, a prolific author and a popular speaker at events all over the country, including Spring Harvest and Greenbelt, was born and brought up in a Jewish family and after converting to Christianity married an Anglican vicar, who happens to be a great, great grandson of Arthur Guinness, the famous brewer.
Her many books in include 'Child of the Covenant' and 'The Heavenly Party.'
Her latest book is a frank and funny account of the pitfalls and pleasures of life in France, while on a three month sabbatical with her husband.
"I had just given up a fairly high-powered, full-time career," she says, "It was catapulted into three months alone with myself and my marriage, facing imminent retirement, the end of our official ministry, loss of status and the blessings of the ageing process. Where had my life gone?
"How abundant was it? How much of it was left and what could I do with it now? Could we really cope with the French with their funny ways, and a tiny, beleaguered church - the only one for miles around - where worship was accompanied by a single recorder or an out-of-tune guitar? If anyone ever thought that a calling to France was all sunshine, croissants, fantastic cheeses and good wine, it is. But it's a great deal more besides."
The evening in Railway Street Presbyterian Church will provide an opportunity for her audience to indulge their favourite French tastes while Michele takes them on a fantasy journey through her new book.
Tickets for the event, including refreshments, cost £5 and are available from Railway Street Presbyterian Church office Tues- Friday 10.00 am — 12.30 pm (telephone number 92602766) and the Faith Mission Bookshop in Lisburn.
09/10/2009