Mike Dornan is the new curate at Hillsborough Parish Church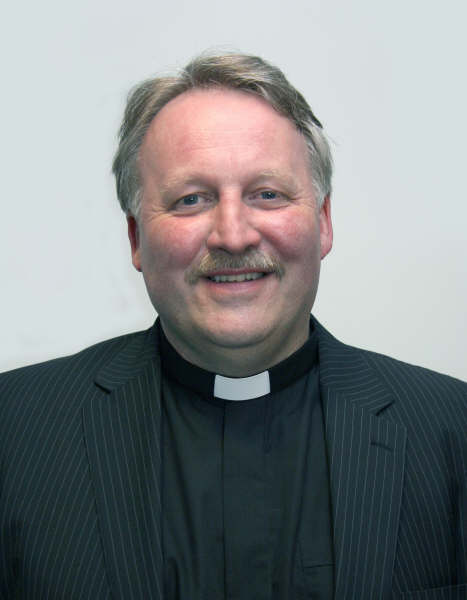 Mike Dornan, was ordained as Deacon for the curacy of St Malachy's Parish Church, Hillsborough at a Service of Ordination in the church on Sunday 21st June. Also ordained at the service was Banbridge man Robert Ferris, a parishioner of Seapatrick Parish, who will serve as curate at St Columba's, Knock, assisting the Rev John Auchmuty, former rector of the grouped parishes of Carryduff and Killaney. The Rt Revd Harold Miller (Bishop of Down & Dromore) conducted the service assisted by the Rev Simon Richardson (Rector of Hillsborough Parish). The candidates were presented by Ven John Scott (Archdeacon of Dromore) and Ven Phillip Patterson (Archdeacon of Down). The preacher was the Rev Adrian Dorrian (Curate of St Mark's, Newtownards). Also taking part were the Rev John Auchmuty (Rector of Knock Parish), Mike Dornan's brother Brian and Robert Ferris's sister Claire.
Miss Julie Bell presided at the organ and together with the choir and the praise band led the worship that included, 'Ye servants of God, your master proclaim', 'I know that my Redeemer lives' and 'Go to the world'.
Following the service, supper was served in the Downshire Centre, providing the opportunity for members of the parish to meet and chat with their new curate and his family.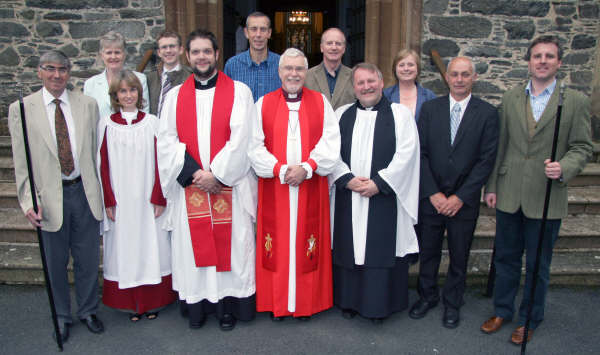 At a service of Ordination of Deacons in St Malachy's Parish Church, Hillsborough on Sunday 21st June are L to R: Bill Murphy (People's Churchwarden), Julie Bell (Organist), Rev Simon Richardson (Rector), Rt Revd Harold Miller (Bishop of Down & Dromore), Mike Dornan (Curate), Kenny Dougherty (Sexton) and Adam Perkins (Rector's Churchwarden). (back row) Some members of the Select Vestry - Barbara Small, Matt Flenley, Colin Darling, Chris Mitchell and Elizabeth Henderson.
Belfast man Mike, a former parishioner of Knock Parish, is married to Gill and they have two teenage children, Nick (18) and Ciara (14). Mike attended Strathclyde University (1980-82) where he obtained a BA degree in Economics and Marketing after which he pursued a career in Financial Services for twenty-four years, working in Glasgow, London and more recently Belfast. In the 1990s, while parishioners of St Peter's in Yateley, Hampshire, Mike and Gill attended a 'Strong Foundations' discipleship course and hosted a house bible study group, where they experienced the first of many 'God-incidents'. In 1995 they returned to Northern Ireland and moved to Saintfield where they became active in parish life including leadership of a house group, an 'Alpha' course group, editing the parish magazine and being involved with the Bishop's 'Think Again' millennium development campaign. In 2002 they were presented with the opportunity to move to a new type of church, 'a fresh expression' church plant from Belvoir Parish, headed up by the Rev Adrian McCartney. Subsequently, in 2004 Mike felt that he was being called to enter full time Christian ministry and from 2006 to 2009 he attended the Church of Ireland Theological Institute in Dublin where he recently obtained a Bachelor of Theology degree. Mike says that looking back over the years he can see God's guiding hand upon his life but it has taken him a long time to fully understand that God calls each of us, "just as we are" with all our insecurities and failings, to serve Him in the world in which we live. He is looking forward to serving Christ's Kingdom as curate at Hillsborough, where he will assist the rector, the Rev Simon Richardson.
New Hillsborough Parish Curate Mike Dornan and his family pictured at his Service of Ordination in St Malachy's Parish Church, Hillsborough on Sunday 21st June. L to R: (front row) Alex, Emma, Nick, Ciara, Mike and Elizabeth Dornan and Bishop Harold Miller (right). (back row) Fiona, Brian, Lorraine, Peter, Vivienne, Stuart and Ryan Dornan.
24/06/2009