Date set for Picnic in the Park and prayer event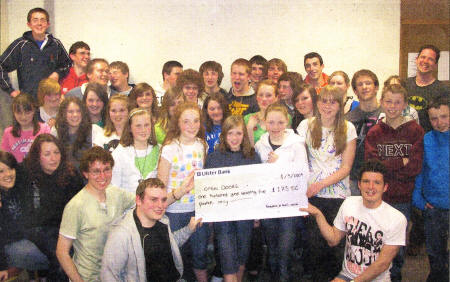 Members and leaders of Revelation, (St John's Moira Youth Fellowship) who raised money with their sponsored Stay Awake for Open Doors charity — who raise awareness and help to serve persecuted Christians around the world. Presenting the cheque to Dave McCann (bottom left) of Open Doors is Simon Henry (bottom right), Youth Ministry Coordinator.
THIS year's Inter-Church Picnic in the Park and Prayer event in Lisburn will take place on Pentecost Sunday, 31 May starting with a picnic at 1pm.
Members of local congregations will meet together in Castle Gardens after their own morning services to enjoy a picnic together (bring your own picnic).
If the weather is inclement the event will be held in Lisburn Cathedral.
At 2pm, prayers linking with the Global Day of Prayer will be led by local church leaders and will include prayers of adoration, confession, for the Church, for our community, our land and the nations of our world.
Each prayer will be followed by a suitable interpretation or response.
The event is linked to the Global Day of Prayer which is being held in a number of other venues in Northern Ireland and in many countries worldwide.
The event is organised by the Lisburn City Centre Churches and is open to all who would like to join with other local Christians for fellowship and prayer.
There is no charge for the event though an offering will be taken up.
22/05/2009