Farewell evening for Anahilt minister and his family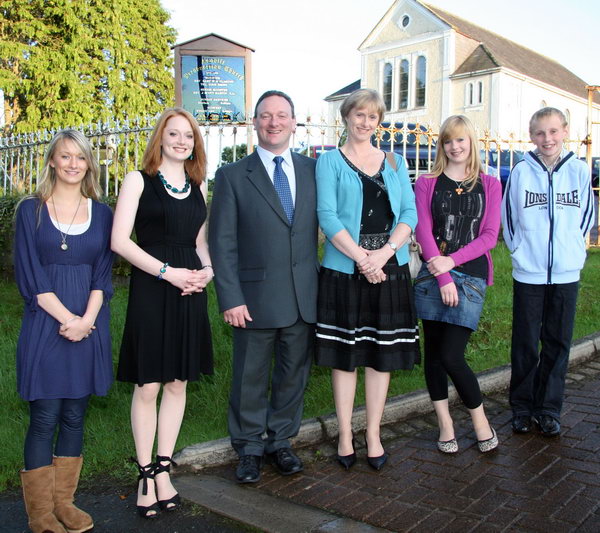 The Glasgow family. L to R: Sarah, Kathryn, Rev Gary Glasgow, Mrs Zoe Glasgow, Lydia and Jonathan.
Anahilt Presbyterian Church Hall was packed last Friday evening (28th August) for a farewell evening for the Rev Gary Glasgow and his family. Mr Glasgow, who was installed as minister of the joint charge of Anahilt and Drumlough on 2nd September 1998, will be installed in Gardenmore Presbyterian Church, Larne on Friday 11th September. The Rev Dr John Dickson, senior minister of First Antrim Presbyterian Church, chaired the proceedings. Speaking appreciatively of Mr Glasgow and his family, Mr Rex McClelland (Clerk of Session) said that the congregation were sorry to lose them and wished Mr Glasgow all the very best in his new charge.
Referring to Mr Rex McClelland as his friend in the gospel, Mr Glasgow thanked him for his kind words saying that it had been thoroughly enjoyable to serve the Lord at Anahilt. He thanked the congregation for their prayerful and practical support and asked for their continued prayers as he moves to serve Christ in Larne. He said that the family leave with heavy hearts and concluded by adding that he hoped the next minister would be as happy as his family had been.
Miss Lena Stevenson and Mrs Ellie Magee made presentations to the Glasgow family after which Mr Glasgow's wife Zoe thanked the congregation for the gifts saying that the whole family would miss everyone at Anahilt.
Hollie McDonald concluded the formal part of the evening as she sang 'Whistle down the wind' accompanied by the Rev David McCarthy, who was student summer assistant at Anahilt in 2006.
The catering team served a delightful buffet supper, which was followed by an evening of entertainment. Oswald Copes and the praise band led the lively singing of hymns that included 'Have Thine own way Lord' and 'Amazing Grace'. Mrs Anne Poots narrated a humorous tale entitled 'I'm Fine' and the Rev David McCarthy sang several items of praise including 'How deep the Father's love for us'. Kathryn Glasgow joined David for the final item of praise as together they sang 'Come and see'.
In conclusion, Mr Laurence Hook, a member of congregational committee, thanked all who organised and took part in what was a most enjoyable evening.
L to R: (seated) The Glasgow family L to R: Jonathan, Lydia, Rev Gary Glasgow, Mrs Zoe Glasgow and Sarah. (back row) Anahilt Presbyterian Church elders - Mr Rex McClelland (Clerk of Session), Mr Noel Graham (Treasurer), Mr. John Magee. Oswald Copes, Miss Lena Stevenson and Mrs Rosemary Nesbitt (Joint Secretaries). Missing from the photo is Mr William Graham.
Freddie and Anne Dempster pictured with the daughter Carolyn McDonald, son in law Norman and grandchildren Claire and Hollie.
Charlie and Anne Poots.
Oswald Copes and the praise band leading the lively singing.
Young members of the congregation.
The catering team.
29/08/2009