CHRISTIAN singer songwriter launches his new album in Lisburn.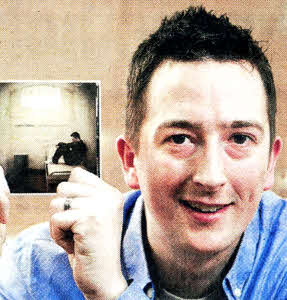 CHRISTIAN singer songwriter Aaron Ferris recently launched his first full length solo album at the House of Vic Ryn in Lisburn.
After testing the solo acoustic artist waters a few years ago with the A Round of Silence' EP Aaron has a freshly prepared full-length album carved and crafted in Einstein Professional Recording Studios, near Antrim.
The locally based singer/songwriter has been writing arid recording for coming up to 10 years now with his music focused on and heavily influenced by his Christian faith.
Aaron said: "The launch went well with a good turn out of friends to help celebrate.
"It was good to see some old and new faces come together in a low-key type affair. Looking back it's truly amazing to find the friends I've made and to see all the people I've met from simply playing a guitar, music sure does bring people together who otherwise would just pass each other by. "The support from everyone was phenomenal. I would like to thank, for the actual CD itself, Frankie in Einstein Studios, who was fabulous to work with, Visions Solutions who looked after the printing side and Paula Shone's artwork, which has gone down a storm so far.
"Then for the actual organisation of the night, two people put in so much time unselfishly, my wife Lois and Carl, the video guy. The time and effort they gave was invaluable as unlike being in a band when the work can be shared, being solo carries just as much work but can be a very difficult and lonely road."
Ulster Star
12/03/2010