Adrian gets his running shoes on for Drop Inn Ministries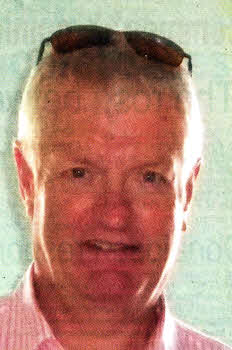 LISBURN was the port of call this week when a Portadown man visited the city on Thursday as part of his 158 mile running challenge to raise money for local charity Drop Inn Ministries.
Adrian McBride, who has recently returned from Tenerife where he worked as pastor of a church for ftve years, is embarking on the Great North Irish Run to raise funds for the people of Africa and Haiti.
During this time, he hopes to call into as many of the Drop Inn charity shops as possible, highlighting the work of the charity which began in Richhill and now works in 15 countries around the world and has 24 shops across Northern Ireland.
Fifty-six-year-old Adrian began his challenge with a run around the 'triangle' of Portrush, Portstewart and Coleraine. In the course of the week, his marathon took in Coleraine, Ballymoney, Ballymena, Antrim, Ballyclare, Carrickfergus, Belfast, Lisburn and Lurgan, some days covering 15 miles and others almost twice that.
Today (Friday) he will arrive back in Portadown and from there run to Richhill before finishing his challenge the following day with a 23-mile run from Richhill to Monaghan via Armagh.
All the money raised during the week will go to help the people of Burkino Faso in West Africa and Haiti, which was devastated by a huge earthquake in January.
Organisations and towns that Adrian passes through are being challenged to help by filling a lorry with used clothes, which will raise up to £5,000 of much-needed cash.
The run is being held during Drop Inn Ministries' 'Make a Difference Week', and Adrian explains that very little money can go a long way in countries such As Africa and Haiti, with £5,000 being enough to build a school.
Adrian, who is determined to complete his challenge despite problems with his achilles tendons, stresses that money and help is delivered directly into the hands of the people who need it.
Anyone wishing to donate to Adrian's challenge or wants to take on the challenge of filling the lorry should phone him on 07856562523.
Adrian McBride
Ulster Star
17/09/2010