Maghaberry Elim is jam packed for annual concert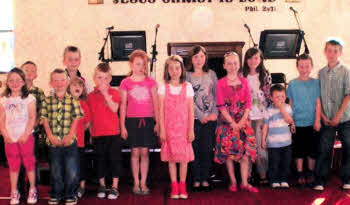 MAGHABERRY Elim enjoyed another packed church last Sunday evening for the annual concert and prize-giving hosted by the Sunday School, known as Jam, and the Bible class, known as Toast.
Jam stands for Jesus And Me and the children were led by Sunday School Superintendent Mrs Freya Gilmore and her team of dedicated teachers.
The opening praise time was taken by the church's talented worship team under the guidance of leader Mr Morley Bradford, and the opening prayer was taken by final-year Bible College student Mr Paul Eagleson. Everyone joined in a thrilling time of inspirational chorus singing led by Mr Jim Atkinson and Mr Ernie Gilmore.
The Jam children then sang a selection of lively choruses themselves and performed a series of puppet sketches.
The Bible class is called Toast because the young people are served tea and toast during the Sunday morning Bible studies. They are led by husband and wife team, Sharon and Simon Hodgins. The Toast team performed an entertaining presentation on the topic of suffering.
The guest speaker was Mr David McKee, leader of the church's junior youth club, Detonate. Taking the New Testament text of Romans Chapter five as a basis for his sermon, he mixed Biblical teaching with references to the popular children's animated films, Toy Story.
The various teachers then presented their classes with their annual and special prizes. After the prize giving, a delicious supper for all the children, parents, relatives and friends was served in the church hall.
While the various youth organisations have closed for the summer break, it's still 'all hands to the pump' as they prepare for the annual free parents and friends fun day in the church grounds on Saturday June 5 from noon to 3pm.
There will be live Christian music, giant slide and bouncy castle, a puppet show, magician, face painting, bungee run, nail design, burgers, ice cream, and a tea room in the church hall.
As well as the stalls and games, the police and fire service will have their vehicles on display.
The activities will all take place in the church car park, which is located opposite the village's primary school on the main street.
Ulster Star
28/05/2010