Bible Sunday at Friends' School
| | |
| --- | --- |
| | |
| From left: Adam Glass, David Cumins, Timothy Ferguson and Andrew Gilmore. | W. 1. Rupert Haydock, the Speaker at Bible Sunday, with the Chairman of the Board of Governors, Margrit Grey. |
BIBLE Sunday, held annually at Friends' School, took place on June 13. Each year all those leaving Year 14 are presented with a Bible to mark their time as pupils at the School.
The Bibles, inscribed with a Friends' crest, are given to the School by the Ulster Home Mission Committee of the Religious Society of Friends.
The Speaker at Bible Sunday was W J Rupert Haydock whose wife, Janet, presented the Bibles to the leavers. Both have close links with the school. Their daughters, Joy and Ruth, were pupils at Friends' and, as a representative of Ulster Quarterly Meeting, Rupert Haydock served on the Board of Governors.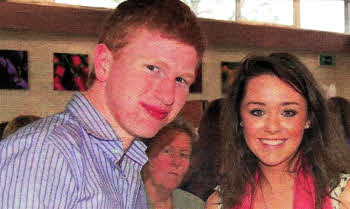 Peter Moorhead with Berri Mulholland and Rosemary A Calvert, who led the gathering in Prayer at Bible Sunday. 1
Rupert addressed his remarks to the leavers. He focused on the path his life had taken, using the analogy of a rugby match to illustrate the challenges faced
and the courage often required to live life as a Christian. He spoke of how his calling to work overseas had brought the family to the Falkland Islands just after the War in the late 1980s and also to Burkina Faso, where he worked with Tearfund in the 1990s. Quoting the words of Jesus in John Chapter 10, verse 10, "I came that they may have life, and have it abundantly". Rupert Haydock encouraged the young people to make the most of the opportunities they had before them, using the Bible as their guide.
Afterwards the pupils, their families and other guests gathered for supper in the Dining Hall. There was a strong sense of the friendships made over the years and, as pupils come to the end of their A level exams and begin to look forward to university, of the lasting links that they will have with the community of Friends' School.
Ulster Star
18/06/2010