Renowned organist to play at Drumbeg Parish Church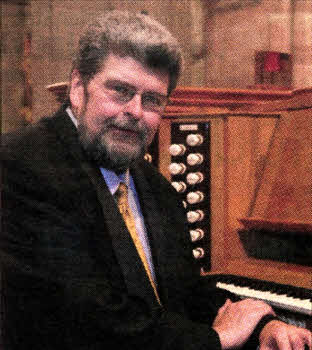 CARLO Curley, dubbed 'The Pavarotti of the Organ' is to perform at Drumbeg Parish Church at an evening of musical entertainment on Friday October 29 at 7.30pm.
Carlo who was invited to play at the White House, for the President early in his career, now tours the world performing wherever the invitations come from, be it large or small he has performed for crowned heads of Europe and church audiences.
To be fair, classical music isn't everyone's cup of tea but when a musician boldly announces that 'Bach invented Rock and Roll', that a particular composition by Handel is a 'real toe-tapper' and that during the next piece his 'size 12's are going to go bananas with smoke rising from the pedalboard', it takes a strong will to turn deaf ear. Just such a performer is Carlo Curley, self-styled champion of the classical organ, a large charismatic figure who has dedicated his life to blowing the cobwebs out of the organ loft and bringing music to suit all tastes to the masses — and by all accounts, they're loving every moment of it.
Tickets for the evening of musical entertainment are available from Drumbeg Parish on 9268 9468. Music Matters, Railway Street, Lisburn. Music Matters, Bradbury Place, Belfast and the Good Bookshop, Donegall Street, Belfast. Admission is by ticket only.
Ulster Star
22/10/2010