Carryduff church holds two very special services
CARRYDUFF Presbyterian Church held two special services last Sunday.
In the morning the Youth and Family worker and his wife David and Besiana Nelson informed the church of the work they will be doing with European Christian Mission in Kosova from September.
In Kosova, which has the youngest average age in the work of 25 has a total population is 2.I million, it is estimated only I,000 are Christians.
In September of this year they are going to work in a Church in the City of Paja, when David will work amongst young men 12-25 years and Besiana with the women and disabled.
Besiana gave the children's address and took as her text 'Our God is a Great Big God'. She showed on the screen Countries around Kosova and gave a lesson on the different languages.The New Testament Scripture reading was read by Christopher Beck.
David showed a short video of Kosova and further talked of his involvement in the Christian work.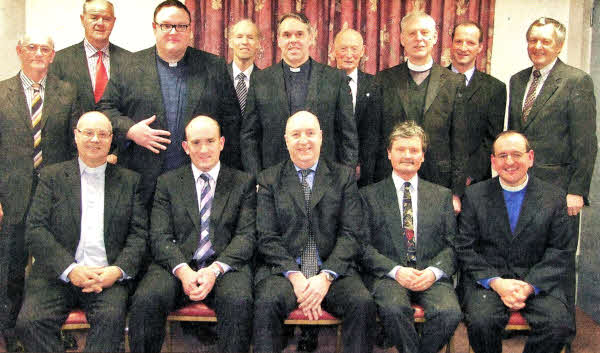 Three new Elders were ordained and installed in Carryduff Presbyterian Church by a Commission of the Down Presbytery. Front Row: Rev. Andrew Cole (Moderator of Presbytery), Mr. Rodney McCaughey, Mr. Alan Reid, Dr. Daniel Todd (new elders) and Rev Alistair Smyth (Minister) Rear Row: Remainder of the Commission.
The evening service saw the Ordination and Installation of Rodney McCaughey, Alan Reid and Dr. Daniel Todd to the Eldership. The Moderator of Down Presbytery, the Rev. Andrew Cole, conducted the service and the Act of Installation.
The New Testament scripture reading was read by Robert Martin.
The Rev. Scott Woodburn, minister of Edengrove Presbyterian Church, delivered a challenging and stimulating charge to the new Elders and Congregation taken from in which he exhorted the newly ordained Elders to the high calling they received as Ruling Elders in the life and work of the church.
Also officiating from the Presbytery were the Clerk Rev. Dr. Brian Black, Rev. Tom Harte and Rev. A. S. Smyth.
The praise was led at both services by the praise band and joined in the evening service by church choir, with Miss Sarah Reid presiding at the organ, when they sang as the anthem entitled 'I Need Thee Every Hour,. A special offering was taken up in aid of the Students' Bursary Fund.
After the evening service a reception was held for the newly ordained Ruling Elders in the church hall, where Rev. A. S. Smyth welcomed members of Down Presbytery and all guests. A comprehensive vote of thanks was proposed by one of the newly elected Elder's Mr. Alan Reid.
Ulster Star
05/03/2010