Lisburn's oldest Boys' Brigade Company holds Centenary Display
| | |
| --- | --- |
| | |
| Leaders Denise Baird and Stuart Campbell (left) and Melanie Cleland (right) with the Junior Sectlon at the Centenary Display. | Leaders Stuart Bittle, Richard Shannon, Alllster Brown and David Cleland with the Company Section at the Centenary Display. |
LISBURN'S oldest Boys' Brigade Company continued its 100th anniversary celebrations recently when 350 past members, parents and friends together with 97 boys and 21 officers packed Lagan Valley Island Hall for their Centenary Display.
1st Lisburn Boys' Brigade Company, affiliated with Railway Street Presbyterian Church, was formed on 9th December 1909 under the captaincy of David McKee. Initially called the 23rd Belfast Company, it became 1st Lisburn Company in 1930.
The Inspecting Officer for this historic display was past member Jim Baird, father of the current captain Geoffrey Baird. Special guests included Lisburn Mayor, Councillor Allan Ewart, BB representatives from the Belfast Battalion and the Lisburn Group, George Toombs (Company President), the Very Rev Dr Howard Cromie (Former Company Chaplin) and Billy Freeman, a past member who joined the Life Boys in 1934.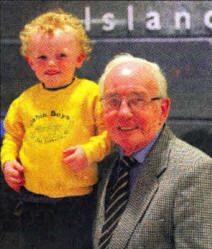 Following inspection, the bugles and drums of the BB Band, followed by the entire company marched on to the Island Hall stage to a rapturous applause from the capacity audience.
The Rev Bob Lockhart opened the evening with prayer after which Jim Baird presented the awards which included nine President's Badges and four Queen's Badges. Private Daniel Nelson was awarded a new cup for overall best boy, which was presented by Joan Bradshaw in memory of her father, former captain Matthew Kearney (19211924) and her uncle, former captain Jack Kearney (1928-1930).
During a packed programme based on 100 years of BB work, the Cabin boys marched to the Grand Old Duke of York and played games with 100 balloons; the Anchor Boys took 'Time for Tea' and sang a celebration song with Basil the Anchor Boy puppet; Junior Section marched out the number 100 and had the audience in laughter with their funny skits; and the Company Section told the history of the Company with a humorous sketch followed by 'Old Time PE' which brought back the old favourite - box work.
The finale focused on the object of the Boys' Brigade 'The Advancement of Christ's Kingdom Among Boys' concluding that the BB has a 'Sure and Steadfast' anchor - Jesus Christ.
Everyone who attended received a commemorative badge after which refreshments were served providing time to chat and recall many happy memories of 100 years of BB work and witness at Railway Street Presbyterian Church.
| | |
| --- | --- |
| | |
| L to R: Councillor Allan Ewart (Mayor), Denise Ewart (Mayoress), Geoffrey Baird (Captain), George Toombs (Company President), Very Rev Dr Howard Cromie (Former Company Chaplin) and Andrew Masters (Director of Youth & Family Work). | Leaders Abigail Bittle and Debbie Reid (left) and Laura Bittle (right) pictured with the Cabin Boys at the Centenary Display. |
| | |
| Leaders Duncan Campbell, Pamela McElhinney and Sherryn Mulligan with the Anchor Boys and Basil the Anchor Boy puppet at the Centenary Display. | Geoffrey Baird (Captain) with his parents Jim and Joan Baird. Jim, a former Railway Street BB member, had the honour of being lnspecting 0fficer for this historic display. |
Ulster Star
07/05/2010