Lisburn City centre churches to hold joint Easter events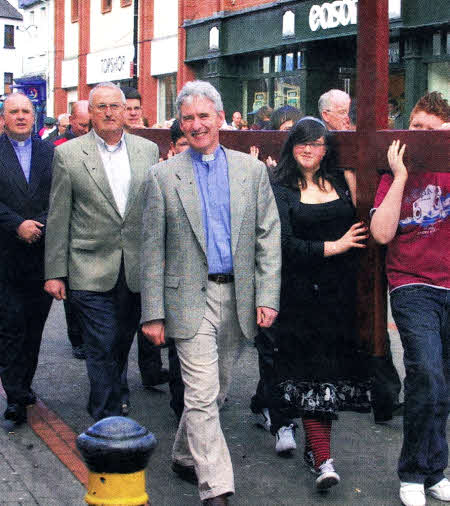 A previous 'Carrying of the Cross march of Witness' making its way along Bow Street.
TWO joint Easter events have been planned by ministers from the city centre churches - Seymour Street Methodist, First Lisburn and Railway Street Presbyterian, St Patrick's Roman Catholic Church, Lisburn Cathedral, Christ Church Parish and Lisburn Christian Fellowship.
The annual Good Friday 'Carrying of the Cross March of Witness' will be held in Lisburn next Friday afternoon (April 2). The procession will gather at the lower end of Bow
Street at 12.30pm then make its way along Bow Street to Market Square for a short act of worship at 12.45pm led by the Lisburn City Centre Ministers. A children's drama group from Lisburn Cathedral and soloist Dana Masters will be featured.
Afterwards refreshments will be served in the vestibule of First Lisburn Presbyterian Church where there will also be an opportunity to receive prayer or take time for quiet reflection.
In a change to last year when churches held services at various times and venues, the city centre churches will hold a 'Joint Dawn Service' in Castle Gardens at 7.00am followed by breakfast in Lisburn Cathedral Church Hall.
Everyone is invited to come and join in these Easter celebrations as the city centre churches commemorate the crucifixion on Good Friday and rejoice in Christ's resurrection on Easter Sunday morning.
Ulster Star
26/03/2010