Crumlin churches come together for summer service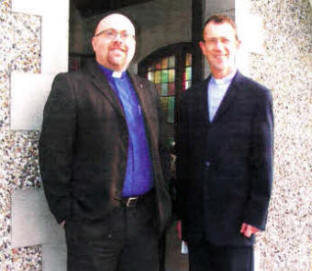 AwF Director and Crumlin Minister Rev. V Dr Scott Peddle with Rev, John Rutter, Vicar of St. John's Church Crumlin and host of the lnterdenominational Service.
THE Crumlin and Glenavy Clergy Fellowship held a community summer service of worship and prayer at St John's Church (Church of Ireland) in Main Street, Crumlin on Sunday, August 1.
Open to all in the community, the diverse congregation took part in what was the fourth inter-denominational service to be held in Crumlin in the last two years.
A special offertory collection, which amounted to £130, will be donated to Aquaculture without Frontiers (UK), a small registered charity active in some of the most deprived areas of the world.
Aquaculture without Frontiers (AwF) Director and Crumlin Minister, Rev. Dr Scott Peddie, said: "On behalf of AwF I'd like to thank the local church leaders and congregation on Sunday evening for their very generous gift.
"AwF relies on donations from individuals and organisations to continue its work promoting sustainable small-scale community based aquaculture overseas. Without such generosity in the past, we would have been unabIe to successfully complete a diverse range of poverty alleviation projects in Bangladesh, Ghana, Liberia, Guyana, India, Indonesia, Kenya, Malawi, Nepal, Papua New Guinea and Thailand amongst others."
"For AwF, every penny counts in achieving our aim of helping people in the most disadvantaged communities to help themselves out of poverty via food production. It is particularly fttting that many of the churches in the local area can come together to celebrate all that they have in common whiIst also thinking of others living in difficult circumstances many thousands of miles away."
Above:
Ulster Star
13/08/2010