Drumbo Presbyterian Church welcomes MD from Duncan hospital in Raxaul, India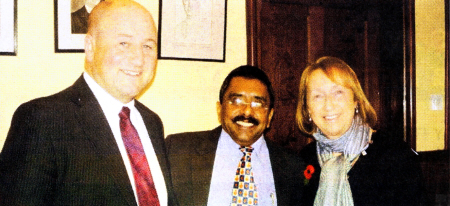 From left are Rev Adrian McLernon, Dr Mathew George from the Duncan Hospital and Mrs. Helena Trimble, the church's Tearfund representative.
Drumbo congregation is very generous in its support of Tearfund and sincere thanks is due to Rev. Adrian McLernon for his ongoing vision and encouragement.
DRUMBO Presbyterian Church Congregation were privileged recently to host a visit from Dr. Mathew George, managing director of Duncan hospital, Raxaul, India for the past 17 years. Duncan hospital is situated in Bihar province, one of the poorest regions in India. The hospital is run under the auspices of the Emmanuel Hospital Association which is partly supported by Tearfund.
Helena Trimble, who is the congregation's Tearfund representative, had the privilege of visiting Duncan Hospital in November 2009 as part of a Northern Ireland Tearfund Healthcare Team.
Dr. Mathew's challenge to the congregation in his address, was to be a prophetic voice for Jesus Christ in our communities and workplaces.
Ulster Star
19/11/2010