The incredible life of the Earl of Moira to feature in lecture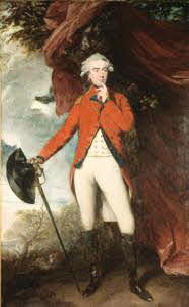 BALLINDERRY Moravian Church will be hosting a lecture on Francis Rawdon Hastings, 2nd Earl of Moira, on 29th October at 7.30pm at the church. Presented by Henry Wilson it should prove very interesting as although the Earl is largely forgotten, he had an amazing career as a soldier and administrator during the expansion of the British Empire.
He was even considered for the post of Prime-Minister and did serve as Governor-General of India, fighting a successful war against the Ghurkas and consolidating British power in the sub-continent.
He died in relative obscurity on board a ship bound for home after his final appointment as Governor of Malta.
The lecture will deal primarily with his role in the American War of Independence which saw him rise from an inexperienced Ensign to being a General in the field. He took part in many major actions of the campaign in the Carolinas. You will hear not only his own remarks on his career but how the diet of the American troops helped in their defeat and how he himself narrowly escaped being hung by the Americans as a war criminal.
The lecture is free. Donations however are welcome to aid the work of the church who are raising funds for the Elim home for handicapped children in South Africa.
On the following Sunday, 31st October, the church will welcome another military man when Major Graham Woods of the Salvation Army will lead the worship.
The service will feature soloists and half the band from the Lurgan Citadel. The service starts at 7pm.
The church extends a very warm welcome to everyone for these two special events.
Ulster Star
22/10/2010