Girls' Brigade ready to welcome new members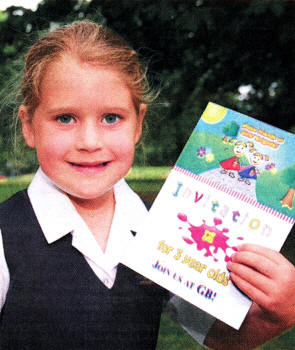 Local girl Ella, a new recruit last September, invites all 3 year old girls to join with her in the fun this year at Girts' Brigade. GB companies throughout NI are re-opening in September after the summer break and are keen to welcome new members aged 3 upwards.
GIRLS' Brigade is inviting all girls aged 3 years and upwards to join the GB this September.
There are almost 280 GB Companies running in churches and mission halls in Northern Ireland, run by local trained Christian volunteers. They offer a diverse programme outside of school hours for girls aged 3 - 18. Activities include craft, sport, modern dance, community work, and charity fundraising. There are many opportunities for girls to enter competitions, learn new skills and challenge themselves in a safe 'girls only' environment. Girls can join GB at any age. If your daughter is between 3 and 18 and would like to get involved in some fun and rewarding
extra curricular activity try GB. There are 32 GB Companies running in the Lisburn City Council area including Lisburn, Hillsborough, Maghaberry, Moira, Dunmurry, Dromara, Dromore, Glenavy, Crumlin and Dundrod.
Girls' Brigade is the largest uniformed youth organisation in NI. With 280 companies and almost 23,000 members, there is definitely a company running near you. To find out more details about GB and locate a company look up the GB website at www.gbni.co.uk
Details regarding contact numbers and further details for the companies in the Lisburn City Council area may be obtained ny contacting GBHQ on 9454 8054.
GB held in churches throughout the city
ELMWOOD Presbyterian Lisburn meets on Monday
St Paul's Parish Lisburn meets on Monday: 3 - 8 yr olds and Wednesday: 9 -18 yr olds
Seymour Hill Methodist Lisburn meets Monday St Columb's Thiepval meets Wednesday
Trinity Methodist Lisburn meets Tuesday
Lisburn Methodist meets Tuesday
First Lisburn Presbyterian meets Monday: 9 & 10 yr olds Wednesday: 3- 8 yrs & 11-18 yrs
Lisburn Congregational meets Friday: 3 - 8 yr olds Wednesday: 9-18 yr olds
Sloan Street Presbyterian Lisburn meets Tuesday Lambeg Parish meets Saturday: 3 - 8 yr olds Wednesday: 9 - 18 yr olds
Dunmurry Presbyterian meets Saturday: 3 - 8 yr olds Thursday: 9 - 18 yr olds
Kilmakee Presbyterian Dunmurry meets Monday Magheragall Presbyterian meets Saturday: 3- 10 yr olds Tuesdays: 11- 18 yr oIds
Annahilt Presbyterian meets Wednesday
Loughaghery Presbyterian meets Wednesday Hillsborough Presbyterian meets Friday: 3 - 8 yr olds Monday: 9 - 18 yr olds
Cargycreevy Presbyterian meets Monday Trinity Presbyterian Boardmills meets
Monday Legacurry Presbyterian meets Wednesday Drumbo Presbyterian meets Thursday
First Dromara Presbyterian meets Thursday Second Dromara Presbyterian meets Tuesday Dromore Cathedral meets Tuesday
First Dromore Presbyterian meets Tuesday Banbridge Road Presbyterian Dromore meets Wednesday
Crumlin Presbyterian meets Tuesday
Killead Presbyterian meets Tuesday
Dundrod Presbyterian meets Thursday Glenavy Parish meets Monday
Maghaberry Methodist meets Monday
Moira Presbyterian meets Saturday 3 - 8 yr olds Thursday: 9 - 18 yr olds.
Ulster Star
03/09/2010