Council helps Guides to celebrate first 100 years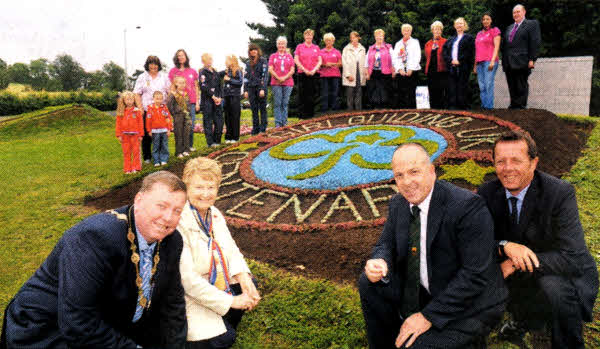 Mayor of Lisburn, Alderman Paul Porter ls pictured with Mrs Iris Andrews, South Antrim County of Girlguiding UK; Councillor James Tinsley, Chairman of the Council's Environmental Services Committee and Mr Robert Hamilton, Lisburn City Council's Parks Supervisor. In the background members of the local Girtguiding association admire the floral display.
LISBURN City Council has recognised the Centenary of Girlguiding UK by creating a floral display depicting their logo.
The eye-catching floral display, at the A1 roundabout before entering Hillsborough' was created by the Council's team of gardeners.
It is part of a nation wide campaign by Girlguiding UK where hundreds of flowerbeds have been created throughout the UK in honour of 100 years of the organisation.
The Mayor, Alderman Paul Porter met local representatives from the Girl Guides at the new display.
The Council is delighted to be part of the very special Centenary celebrations of Girlguiding in the UK" he said. This flowerbed has been beautifully created by the skilled gardeners of the Council to bring a splash of colour to passers by.
"The Girlguiding association plays an extremely important role in our local community and beyond and it is fitting that the Council recognises the contrinution they have made in the past and will continue to do so in the future. It is rewarding to be part of their Centenary celebrations and I would like to congratulate them in the sterling work they do."
Chairman of the Council's Environmental Services Committee' Councillor James Tinsley added: "Lisburn City Council takes pride in improving the appearance and ambience of towns and villages across the City and the creation of floral displays, like the one here in Hillsborough' gives a positive impression to everyone who will pass by."
The Girlguiding UK floral display will remain at the A1 Hillsborough Roundabout until the end of August.
Ulster Star
16/07/2010