Licensing service held for Helen Freeburn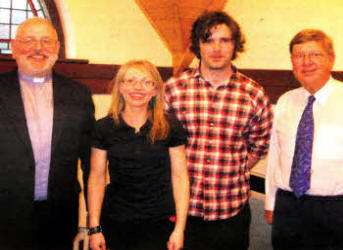 Rev. David Knox, Mrs Helen Freeburn, Mr Dave Freeburn and Very Rev. Dr. Trevor Morrow, Minister of Lucan.
THE licensing service for Mrs Helen Freeburn now Licentiate Minister in Harmony Hill took place in Lucan Presbyterian Church, Co Dublin on the evening of Sunday June 6.
A large congregation was present, including many of Helen's family and friends from both Lucan and Harmony Hill. All present were heartily welcomed to Lucan by the Minister, Very Rev. Dr Trevor Morrow.
The service was carried out under the authority of the Dublin and Munster Presbytery with the proceedings ably controlled by the Moderator' Rev John Woodside, Minister of Drogheda Presbyterian Church.
Questions were put to the probationer, Helen, who responded by subscribing to the Westminster Confession of Faith.
The address to Helen was given by Dr Morrow, leaving her in no doubt that, as a new licentiate and future minister, she was being called by God to make disciples'. The address was followed by a reception' with speeches from Mrs Vivian Murtagh, a friend of Helen's from Lucan, Rev. David Knox from Harmony Hill and Rev. Prof. Laurence Kirkpatrick from Union Theological College.
Mrs Freeburn responded by thanking her family' Lucan Congregation and all those who had contributed to her spiritual life' education and development.
Refreshments were provided following the formal proceedings.
Ulster Star
25/06/2010/2010