Church organist retires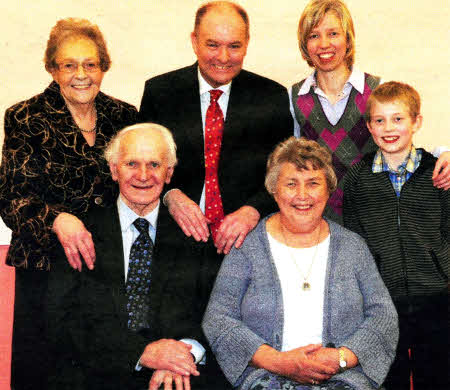 The retiring organist of Drumlough Presbyterian Church Mrs lsabel Nicholson (left) and newly appointed organist Mrs Sharon Jordan (right). lncluded are Sharon's son Peter (right), Clerk of Session Mr David Gibson (centre) and Sharon's parents Senior Minister Rev Scott Martin and Mrs Eleanor Martin (seated).
| | |
| --- | --- |
| | |
| Isabel Nicholson and her husband Sidney. | Mr David Gibson (Clerk of Session) presents a clock to retiring organist Mrs lsabel Nicholson in recognition of over 30 years faithful and exceptional service. Looking on are the convenor of the vacancy at Drumlough, the Rev Dr Bert Tosh (left) and senior choir member and former Clerk of Session, Mr Tom Jordan (right). |
THE congregation dinner in Drumlough Presbyterian Church has marked the retirement of Isabel Nicholson, their organist of over 30 years.
Following a most enjoyable dinner in her honour, Clerk of Session David Gibson and senior choir member and former clerk of session Tom Jordan presented a clock and cheques to Isabel in recognition of her long and loyal service wishing her many years of a happy retirement and health to enjoy it.
Prior to making the presentation, David spoke of the importance of music as part of worship and of Isabel's faithful execution of her duties at morning, evening and midweek services.
"During this long period of time Isabel has been exceptional - she has never let us down. I think this reflects her love of the Saviour and her love of the congregation", David concluded
Thanked
In response, Isabel thanked Dr Tosh, session, committee and congregation for their kindness and gave a special thanks to the choir members for their help and attendances at practices and service. "It makes a big difference when choir seats are filled" she said and concluded.
The Rev Dr Bert Tosh (Convenor of the Vacancy) then compered an evening of entertainment of music by Andrea Rea (Violin) and Brendan Popplestone (guitar) with poems and narrations by choir member Betty Hanna.
Dr Josh concluded the evening by giving thanks for a great evening of fun, music and craic and also by giving thanks for the exemplary service that Isabel has given to the church over the years.
Brought up in the Deneight area of Lisburn, Isabel was formerly a member of Legacurry Presbyterian Church. She joined the congregation of Drumlough following her marriage in 1950 during the ministry of the Rev William Copes (1930-1965) who was followed in turn by the Rev William Mathieson Gray (1967-1971, the Rev Scott Martin (1972-1997) and the Rev Gary Glasgow (1998-2009).
Isabel became a choir member in 1964 and was appointed organist and choirmaster in July 1979..
Succeeded
She will be succeeded as organist by choir member Sharon Jordan, daughter of the senior minister, the Rev Scott Martin.
Sharon will commence her duties
Ulster Star
16/04/2010