Epic charity moped journey for Salvation Army bandmaster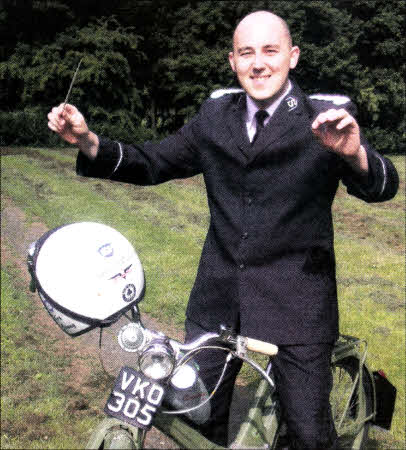 Salvation Army member Jonathan Corry will be riding a 1955 NSU Quickly moped to raise funds for The Salvation Army Chikankata Hospital to purchase a bus from which to run a mobile clinic in rural Zambia, and Riders for Health which provides transport for health care workers in Africa. Jonathan who is a Salvation Army Band master will be stopping en route to conduct several brass bands along his 1,000 mile journey.
SALVATION Army Brass band and classic motorbike enthusiast Jonathan Corry has set off on an epic 1,000 mile journey for charity on a vintage NSU Quickly moped.
Jonathan, 28, who used to live in Lisburn, will be reaching giddy speeds of 30 miles per hour on the classic 1 55 as he travels from John O'Groats to Land's End, where he hopes to arrive on Friday August 13.
During the two week journey, he will also be stopping off to conduct several brass bands en-route.
Jonathan is currently on a career break from South Eastern Education and Library Board where we was Brass Tutor to schools in the area
He is looking forward to the hectic trip which will be worth every gruelling mile as he is raising vital funds for two very worthy charities - Action Africa, a support group for The Salvation Army's Chikankata Hospital in Zambia which is aiming to raise £25,000 to purchase a new vehicle for the mobile clinic which visits rural areas of Zambia, providing a range of preventative health care to approximately 250 people every day, and Riders for Health, a charity which provides reliable transport, including mopeds, to support rural health care projects across Africa.
Jonathan, a professional trumpet player as well as brass tutor, developed his love for music at Belfast Temple Salvation Army where he first learnt to play the cornet as a young child.
Today he is the youngest bandmaster of renowned Enfield Citadel Band of The Salvation Army in London and works as Brass Co-ordinator for Brent Music Service, providing instrumental tuition to pupils in and out of school in the London Borough of Brent.
He still maintains his ties with home with guest appearances with The Ulster Orchestra is a member of Br06/08ass Quintet Artemis which plays for local BBC Song's of Praise Broadcasts and has recently returned from conducting at a week long rehearsal of the National Youth Band of Ireland in Limerick.
"I had my own NSU Quickly when I was a teenager and I'm looking forward to riding the 1955 model, kindly sponsored by Roger Worton, NSU Quickly Spares, from one end of the country to the other.
The fact I get to visit several brass bands along the route makes it even more exciting and challenging, while the money I raise will make a big difference to the my two chosen charities'" explained Jonathan.
"I'd like to thank everyone for their support and enthusiasm."
Along the 1,000 mile route, Jonathan will be stopping off to share his expertise with at least seven local brass bands including The Salvation Army Music School in Forgandenny Scotland, The National Youth Brass Band of Scotland, Dronfield Band in Sheffield, Borehamwood Brass Band, Hertfordshire, Welwyn Garden City Band in Dunstable and a finale concert with St Keverne Band in Cornwall sponsored by soloist, tuba virtuoso Les Neish.
For more information on Jonathan's epic journey. the worthy causes he is supporting and indeed how to make a donation yourself, visit www.quicklyrun.co.uk.
julieann-spence@ulsterstar.co-uk
Ulster Star
06/08/2010