George Hamilton IV chooses Colin to record new landmark album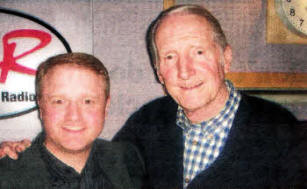 LISBURN man Colin Elliott is helping to produce a brand new album by the legendary George Hamilton 1V
The album, entitled 'Old Fashioned Hymns and Gospel Songs (For Those Who Miss Them!)' is a double CD collection of 28 Gospel classics featuring duets from many of Country and Gospel music's foremost entertainers, as well as several of George IV's compatriots from Nashville's Grand Ole Opry.
The historic album took over eighteen months to record both in Hillcrest Recording Studios, located outside Portadown, and in various studios in Nashville and throughout the United States.
The album was produced by local man Colin Elliott, who was tasked with bringing the whole project together as well as producing individual tracks for the featured artists including Charley Pride, Ricky Skaggs, Marty Stuart, Connie Smith, Charlie Louvin, The Whites, George Beverly Shea, Mosie Lister, Pat Boone, Jim Ed Brown, Bill Anderson, Arthur "Guitar Boogie" Smith, Buddy Greene, Joanne and Tommy Cash.
This was an amazing project to have been a part of," remarked Colin, "and something that couldn't really have been considered until recently. It would have been next to impossible to arrange for so many top Country artists to be in the one studio at the same time, however with today's technology we were able to make it happen."
Musicians from the Gospel band Live Issue, of which Colin Elliott is a member, were used to produce all the backing music for the album. In addition to them were contributions from other local musicians such as steel player Ivan McLeron, violinist Jan Lyttle and banjo picker Derek Norwood. Fellow Live Issue member and pianist, Samuel Purdy, also assisted with pre-production work and arranging keys for the various singers on the album.
George Hamilton IV then took time out from a hectic touring schedule to record his main vocals with Colin in December last year. The basic music tracks and Colin's arrangement notes were then sent to each artist in turn and studios were booked for them to record their vocals in America. These vocal tracks were individually returned to Colin and the songs were rebuilt and finished in Northern Ireland before the album's American launch at the Grand Ole Opry in Nashville on Saturday, July 3.
The album's launch was a very memorable event for Colin as he was formally introduced on the stage of the Ryman Auditorium by Emmylou Harris before making his second appearance singing at the Grand Ole Opry, the first being in August 2009 with Live Issue. This is unprecedented for any singer or musician from these shores and an indication of how highly Colin Elliott and Live Issue are regarded by both George Hamilton IV and the Opry management in Nashville.
Colin continued: "It was such an honour to work with so many legendary musicians from the Grand Ole Opry and through this project I've made a lot of friends including some true Nashville legends. All of us involved in the album, including artists, musicians and studio engineers gave freely of our time and talents to make this recording happen. This is something quite unique and refreshing in a world of music unions and contractual obligations."
Although Colin Elliott is recognised both here and in Nashville for his singing and production skills, this is something he considers as a hobby and music ministry. By day Colin is the Principal of Brownlee Primary School in Lisburn, which has an excellent reputation throughout the city and surrounding area. A demanding job by any one's standards in these days of educational change and uncertainty, but Colin seems to be able to combine his passions for education and music and believes that one serves to enhance the other. He is also a committed family man who ensures that his wife Joy and two children, Sarah and Daniel, receive plenty of quality time, despite the many demands on Colin's time.
George Hamilton IV & Friends 'Old Fashioned Hymns and Gospel Songs For Those Who Miss Them!' is currently on sale on the Lamon label in all Faith Mission Bookshops throughout Northern Ireland and online at
www.hillcrestrecordings.btik.com price £ 14.99.
Ulster Star
24/09/2010