Local girl leaves Lisburn for outreach in New Zealand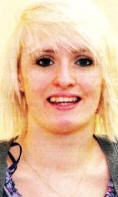 LAURA MacDonnell, a former Friends' School pupil, has spent the last six months of a gap year working with Crown Jesus Ministries. The final part of her gap year continued last Wednesday (February 24) when she travelled to Oxford, New Zealand where she will be based at YWAM's (Youth With A Mission) Discipleship Training School.
Laura will spend the first three months at the base where, during the lecture phase, she will hear international speakers cover topics relating to the Christian faith and more particularly to missionary work. For her last three months, the outreach phase, Laura will be part of a school team when she will be involved in outreach work in South America, Far East Asia, South East Asia, Africa or Europe.
Laura, who is thankful for all the help, support and encouragement she has received over the past months said, "I'm taking this gap year before University to seek God's
will for my future. When praying about what to do with my gap year, God told me to 'Go and make disciples of all nations' so that is what I have been trying to do - first through working with Crown Jesus ministries and exploring mission opportunities at home and now with this Discipleship Training School (DTS) worldwide".
Laura concluded, "Oxford is a small rural town with I400 inhabitants and about four times that number in sheep; both the 'Lord of the Rings' and 'Chronicles of Narnia' movies were filmed in this region, which is about two and a half hours from Christchurch on the south island."
Ulster Star
26/02/2010