Book detailing 'Lisburn's Rich Heritage' is relaunched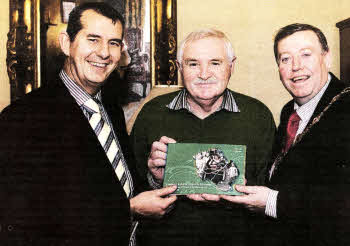 Local churches writer John Kelly with Environment Minister Edwin Poots (left) and Lisburn Mayor Alderman Paul Porter at a pre-Christmas re-launch of 'Lisburn's Rich Church Heritage' in the Mayor's Parlour.
IN the run up to Christmas remaining copies of the second edition of John Kelly's book 'Lisburn's Rich Church Heritage' will be on sale at Easons, Faith Mission Book Shop, Lisburn Museum, Your Store (Harmony Heights) and Waterstones.
The first edition of the book sold out in just three weeks making it necessary to publish this second edition which is jam packed with over 900 photographs. In addition to a brief history of all 132 churches and places of worship in the Lisburn city area, there is a photo of each church and its minister; a selection of various church events from about 2004 to 2009 and a new section of family photos.
In a pre-Christmas re-launch of the book, Lisburn Mayor Alderman Paul Porter encouraged people with an interest in local churches and church history to buy this very affordable book which at just £5, would make an ideal Christmas present or stocking filler.
A limited number of copies of the book are available and when they are gone - they are gone; there will definitely be no third edition or re-print.
Speaking of the re-launch John said, "I was very pleased to have the Mayor endorse my book on Lisburn's churches and was also pleased to have Edwin Poots add his endorsement."
Ulster Star
03/11/2010