Re-opening of renovated and extended
Loughaghery Presbyterian Church
| | |
| --- | --- |
| | |
| Rev Leslie Patterson, Very Rev Dr Stafford Carson and Rev David McConaghy (Senior Minister) took part in the service of praise and thanksgiving. | Minister's Wives - Mrs Maxine McConaghy, Mrs Patricia Carson and Mrs Laura Patterson. |
IN keeping with their Mission Statement, 'Building on the Past - Building for the Future' the renovated and extended Loughaghery Presbyterian Church was opened and dedicated last Saturday afternoon (4th September).
The service of praise and thanksgiving, which marked another signiftcant milestone in the 260 year history of the congregation, was led by the minister, the Rev Leslie Patterson and the act of dedication was conducted by former moderator of the Genera Assembly, The Very Rev Dr Stafford Carson. Also taking part were the Senior Minister, the Rev David McConaghy (1972-2002) and the Moderator of Dromore Presbytery, the Rev John Brackenridge.
Guests included Lisburn Mayor Alderman Paul Porter and Lagan Valley MP Jeffrey Donaldson. Mrs Carol Patterson presided at the organ and Mrs Ruth Long at the piano; together with the Church
Choir they led the worship that included 'My heart is filled with thankfulness' and 'Great is the faithfulness'; the anthems were, 'May the fragrance of Jesus fill this place' and 'Wonderful, merciful Saviour'.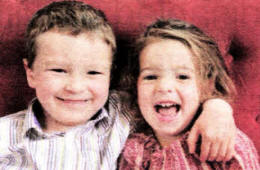 In a challenging address to the congregation, Dr Carson spoke of the importance of a healthy church and emphasised the need to hold to the truth of the Gospel and speak the truth in love.
Following the service, a delightful supper was served in a packed church hall.
During the rece'ption the Rev Patterson, thanked everyone who had in any way contributed to the re-opening of the renovated and extended Church building.
He said: "Occasions like this normally only happen once in a person's lifetime but when it does, it is right and proper to mark it in such a way that it will stay in the memory for the rest of our lives".
Mr Patterson acknowledged the dedication and contribution of previous generations of Loughaghery people who, under the ministry of his nine predecessors, laid the foundations upon which the present congregation was able to build.
He reminded everyone present that the work completed was done solely for the glory of God - and for no other reason.
The project, he said, should send out a message to the world around us that the church of Jesus Christ is still alive and plans to be here for many generations to come.
In conclusion, Mr Patterson commended his people for their vision, commitment and faith that made this renovation and extension possible and prayed that they would enjoy the new facilities while remembering to thank God for His continued hand of blessing upon our church.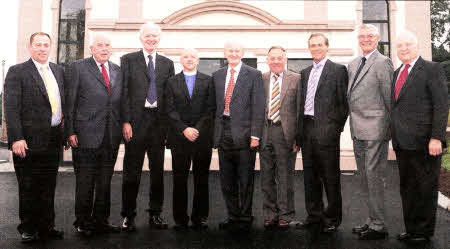 The minister and elders outside the newly renovated and extended Loughaghery Presbyterian Church- L to R: David Moore (Secretary), Oliver Greer, Colin Stanfield, Rev Leslie Patterson, Norman McKinley (Clerk of Session), Norman Jess, Ken Cunningham, Ivan McAuley and Bertie Graham.

Ladies who provided refreshments at a reception following the opening and dedication service.
Ulster Star
10/09/2010