Lunchtime Musical Recital at Railway Street church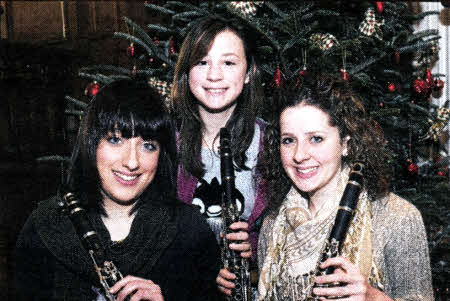 Clarinet trio - Lauren Mulholland, Anna Curragh and Megan Gillespie, who will be playing at a Lunchtime Music Recital in Railway Street Presbyterian Church.
Amidst the hustle and bustle leading up to Christmas, why not take some time to relax and unwind and enjoy a free 'Lunchtime Musical Recital' in Railway Street Presbyterian Church on Tuesday 21st December from 1.00pm to 2.00pm featuring instrumentalists and singers from Brownlee Primary School, Stranmillis University College and Queen's University College Belfast Music Societies.
Festive refreshments will be served before the recital from 12.30pm to 1.00pm and also at 2.00pm following the recital.
Everyone is invited to go along and enjoy this selection of Christmas music for as much or as little time as you can spare and feel free to drop in and out as you please.
In keeping with the church's mission statement 'Serving the Community' Railway Street Presbyterian Church will be open each day for quiet prayer and reflection on Monday 20th to Friday 24th December from 12.30pm to 2.00pm.
The congregation invites members of the Lisburn community to enjoy the tranquility of their recently renovated city centre church - all will be made most welcome.
Ulster Star
17/12/2010