Maghaberry Elim hosts successful mission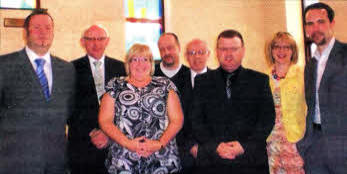 MAGHABERRY Elim celebrated a successful four-night evangelical mission with the church packed to capacity for each meeting.
The highlight was the annual Sunday evening concert and prize-giving organised by the junior youth club, known as Detonate, which caters for children from nursery age to Primary Seven.
The opening devotions were taken by the church worship team under the leadership of Mrs Sharon Hodgins and Mr Morley Bradford. Church pastor, Mr Paul Evans, chaired the service.
The Detonate children took up the collection, before singing three inspirational choruses under the guidance of Detonate worker, Mr Ernie Gilmore.
Adults and children alike were thoroughly entertained by the Christian puppet ministry team from Dromore Elim Church.
The address was given by Pastor Stephen Mitchell from Newtownards Elim Church, who was also the guest evangelist for the entire four-night mission.
At the Detonate service, Pastor Mitchell took the New Testament text of St Luke Chapter 23 as the basis of his challenging sermon. Detonate leader, Mr David McKee, gave the vote of thanks to all the parents and relatives for their support of the club, before his fellow workers, Mrs Cheryl Eagleson and Mr Darren Brown, distributed the prizes to the children.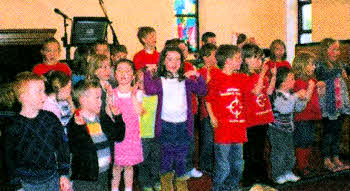 The children themselves closed the service in prayer, after which everyone enjoyed a delicious supper served in the adjoining church hall. The other mission services were chaired by Pastor Evans, and included Gospel testimonies from a group of young Christians known as The Band of Brothers.
As well as the talented church worship team, the mission music was provided by guest Gospel recording artists Mrs Iris Evans from Maghaberry Elim, and retired Pastor Bill Dunn from Newtownards Elim.
The mission will provide a platform to launch further outreach events in the village and surrounding locality.
Beginning on Wednesday May 5 and lasting four consecutive Wednesday's, final-year Bible student Mr Paul Eagleson will conduct the latest in the series of highly popular Christianity Explored Bible studies in the church hall, starting at 8pm.
On Sunday May 23, the Sunday School known as Jam (Jesus And Me) and the Bible class known as Toast will host their annual concert and prize-giving.
Jam is led by Sunday School Superintendent Mrs Freya Gilmore, while the Bible class is hosted by Mr and Mrs Simon Hodgins.
On Saturday June 5, all the church youth organisations will combine to host the annual family fun day in the Maghaberry Elim grounds, located opposite the village primary school.
Ulster Star
30/04/2010