Popular Lisburn woman passes away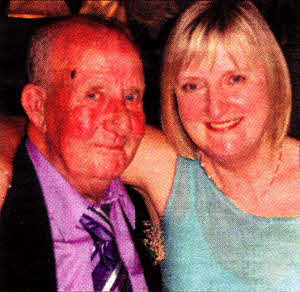 POPULAR Lisburn girl Mary Mullan passed away recently whilst on holiday in Tenerife. Mary passed away on May 13, two days before her 59th birthday.
Her father George 'Hooker' Thompson was a well known footballer, having played senior football at sixteen, he later gained the highest FAI Awards whilst playing for Sligo Rovers and St. James Gate. He was also a member of the great Linfield wartime side, which included some famous names. Married to Noel and mother of Jonathan and Kathleen, Mary had previously done a tremendous job of helping to rear the three children of her brother Kevin's marriage. Her nephew Jackie was probably the greatest schoolboy International of modern times.
Well-known in the Low Road area where she had many friends, Mary will be sadly missed.
My Sister's Girl - Tribute to Mary Mullan
In my thoughts of days gone by some names protrude supreme,
Certain people stick out like the sunshine's golden beam,
Friends, Parents, Sisters, Children, keep memories in a whirl,
And none so more Mary, Our Marie's only girl.
Her maiden name was Thompson in which she took great pride,
And if in any trouble to ones to be beside.
The fact she was a lovely girl is really no surprise,
'Cause her mother was a beauty with her 'Betty Davis' eyes.
'Hooker' Thompson was a battler, who came from a fighting clan,
He may have feared one lady but feared not any man,
Both Kevin and Mary followed just to prove they were the same,
And in the years to follow they showed clearly they were game.
Some girls join this and some join that in service to the Queen,
Mary joined the U.D.R. as good a fighting force ere seen.
A noble Aunt to many and a friend to everyone,
We will all remember Mary for her deeds well done.
Ulster Star
28/05/2010