Mega Christian festival returns to Moira demesne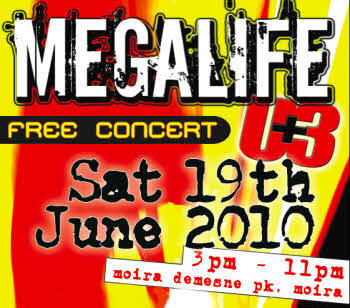 THE biggest outdoor free Christian music festival in Ireland is returning to Moira this summer.
Megalife U+3 will be staged in Moira Demesne on Saturday June 19 from 3pm - 11pm.
It is a family friendly festival with no alcohol on site and features twelve bands on an outdoor main stage and an acoustic cafe. To give visual effects the largest mobile LED outdoor screen in Ireland will be on site.
As well as the best in international, national and local Christian music there will be a Kidz Zone with puppet shows, face painting and more. There will be all the usual food outlets and stalls as well as a prayer area and art area where anyone can get involved.
The band line-up is impressive with YFriday from England making their last appearance in Northern Ireland after 17 years on the road.
Brian Houston is no stranger to venues in Northern Ireland and he will be back in Moira. Rend Collective Experiment from Bangor are in huge demand this summer playing all over the UK and Europe and fresh from a TV appearance with RTE. Reedstar, Crave, Nathan Jess and Lifecolour also share the main stage and bring a wide spectrum of musical taste to the festival. In the Acoustic Cafe you can enjoy designer coffees and all things sweet provided by Pimento, while listening to great acoustic sounds from Big Street, all the way from Gothenburg, Sweden. The 1930's and Sixtyfold from Belfast are ones to watch along with Stevie K and Aaron Ferris from Lisburn.
For further information log onto www.megalife.org.uk.
julleann.spence@ulsterstar.co.uk
Ulster Star
04/06/2010