Harvest celebrated at Moira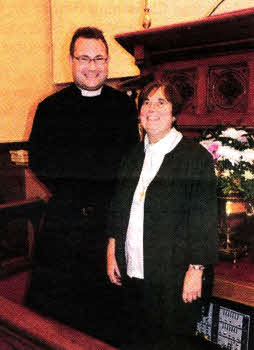 Rev. Simon Doogan (Left) Rector of the Parish of Ballyholme, Co- Down with Rev. Liz Hewitt, Minister of Moira Methodist Church (Right) after the Harvest Praise Service at Moira Methodist Church.
MOIRA Methodist Church has just celebrated its 188th Harvest Worship Weekend, the latest since the Main Street Church opened its doors in 1822.
The special weekend of thanksgiving and celebration began on the evening of Saturday September 25, with a Harvest Worship Service and Supper. The guest speaker was Pastor Colin Cooper of Knockconny Baptist Church. Pastor Cooper was joined by the KnockconnyYouth Singers for a service of worship, thanksgiving, praise and reflection.
On Sunday morning, the Harvest Family Service was led by Moira Methodist's Rev Liz Hewitt. The Church's very own M3 Music Group added a welcome and contemporary edge to the worship- The service was enjoyed by a congregation of all ages.
The weekend concluded, on the evening of Sunday September 26, with a Harvest Praise Service led by Rev Liz Hewitt- The guest speaker was Rev Simon Doogan, Rector of the Parish of Ballyholme and the Portadown Ladies Choir led the praise.
Rev Simon Doogan's address was inspired byThe Parable of the Sower and his previous ministries in agricultural communities in Mid Ulster- For the second night in succession, worshippers were treated to a hearty supper provided by the Catering Committee of Moira Methodist Church. "Sunday evening's service was one of the busiest services ever to be held in the Church-", says Moira Methodist's Rev. Liz Hewitt.
"It was standing room only as people travelled from as far afield as Omagh to join with us in worshipping and praising God- The Church Pews were full to capacity, the Balcony was full to capacity, we'd chairs placed in the aisles, and we even had people sat on chairs in the Porch
"Harvest is an important time in the life of any church. But as a church serving a community with a rural hinterland, it is especially important to us here in Moira. "Throughout the weekend, we thanked God not only for the fruits of the earth, which He has provided to us, but for His creation in its entirety. As Christians, we need to think how we interact with the world God has made for us, and how we equitably share the wonderful and abundant resources He has generously provided for us-" says Rev. Hewitt.
Ulster Star
29/10/2010