`Music in May' lunchtime concerts at Christ Church

Choir Secretary Sylvia Creighton (right) and members of Christ Church Choir pictured with some people who enjoyed a delicious lunch prior to the 'Music in May' concert last Tuesday (May 11).
CLARINETTIST Gillian McCutheon accompanied by Stella McCutcheon on piano was the guest musician at the first of three 'Music in May' lunchtime concerts in Christ Church, Parish last Tuesday (May 11).
The concerts which last approximately 30 minutes will continue next Tuesday May 18 at 1.15pm when the guest will be the Ulster Orchestra's Principal trumpeter Paul Young accompanied by Christ Church's organist
Richard Yarr. The third and final concert on Tuesday May 25 will feature Riverdale Primary School Choir, winner of the recent Lisburn City Primary School Choir of the Year 2010.
Admission is free. However, retiring donations would be gratefully appreciated. Members of Christ Church Choir will be serving lunch from 12.15pm on the day of each concert. A choice of hot food, salads, desserts and refreshments will be available at a cost of just £6.50. In light of previous demand for lunches, early booking would be strongly advised. You can confirm your place by signing the sheets in the church porch or by contacting Iris in the Parish Office on 9267 3271.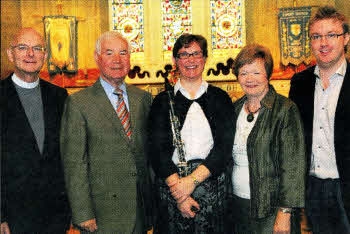 At the 'Music in May' lunchtime concert in Christ Church Parish last Tuesday (May 11) are L to R: Rev John Pickering (Senior Minister), Alderman lvan Davis 0BE, Gillian McCutheon (Clarinettist), Stella McCutcheon (Accompanist) and
Richard Yarr (Christ Church 0rganist).
Ulster Star
14/05/2010